1285 pictures from July. First pass narrowed it to 76. Then culled down to 31 for this post…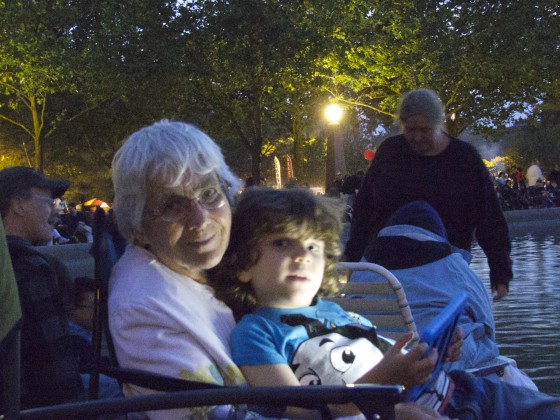 2014-07-05 04:50 UTC – Grandma Ruth and Alex waiting for fireworks.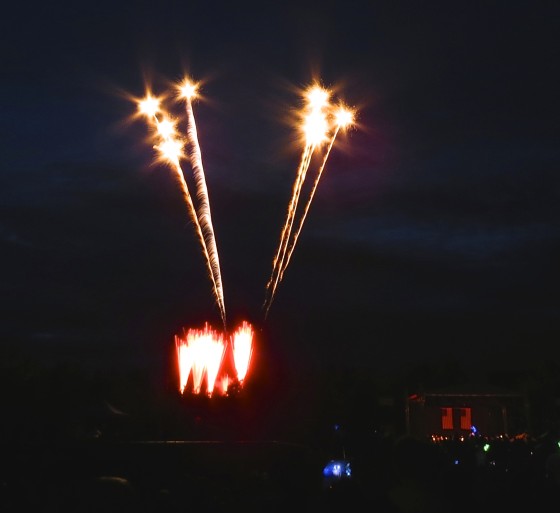 2014-07-05 05:04 UTC – And then the fireworks began!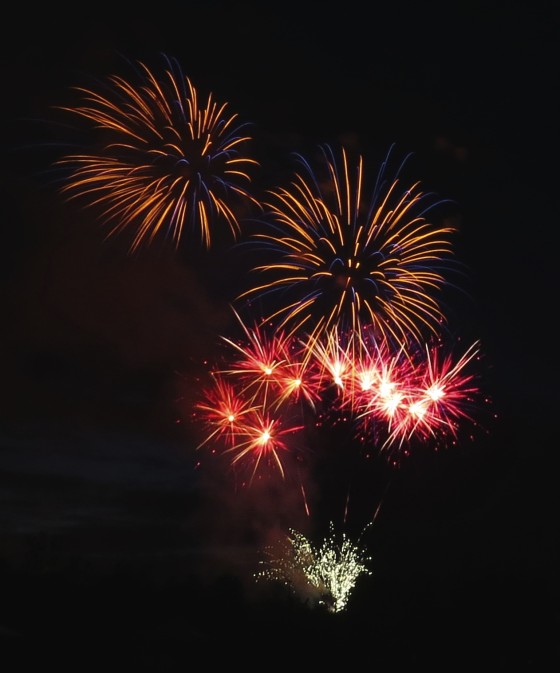 2014-07-05 05:13 UTC – I took lots of pictures of fireworks, but two will suffice here.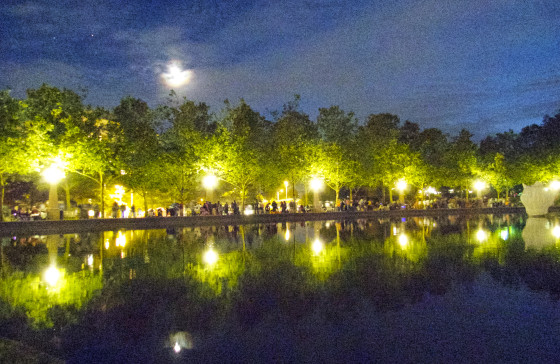 2014-07-05 05:26 UTC – After the fireworks the people across the pond start leaving under the light of a cloudy moon.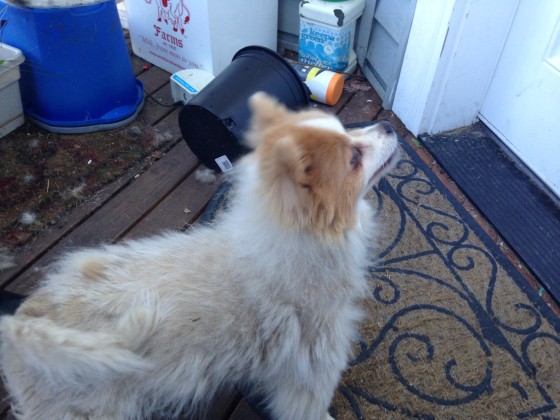 2014-07-07 18:27 UTC – One of the neighbors dogs, who always barks back and forth with Roscoe through our back fence, got loose. We saw it walking by and called it. It came running, straight to our door, to bark at Roscoe through the door. Roscoe excitedly barked back. The neighbor dog wanted to come over for a visit! We did not let it in. We took it back to its own house instead. They were both disappointed.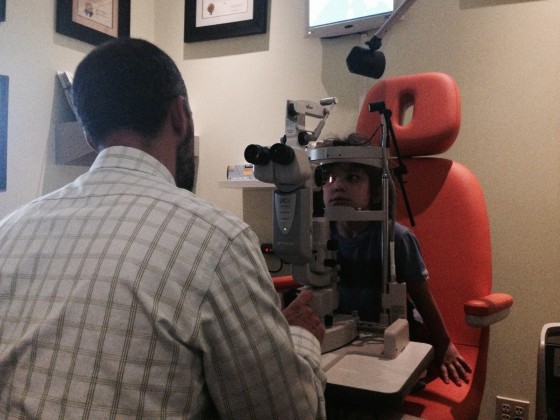 2014-07-11 22:47 UTC – Alex's first eye exam. Doesn't need glasses yet… but maybe next year!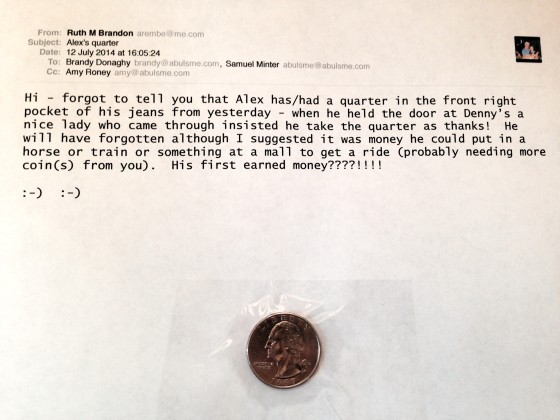 2014-07-12 16:36 UTC – See the story above. Alex did not forget. Later when we were out at a local mall, he fished the quarter out of his pocket, and headed over to a little train ride that goes back and forth for a minute when you put in a quarter. But it was out of order, so he asked me to keep the quarter for him. But he very much remembered the quarter he had earned, he knew where he had kept it safe, and he knew what he wanted to use it for.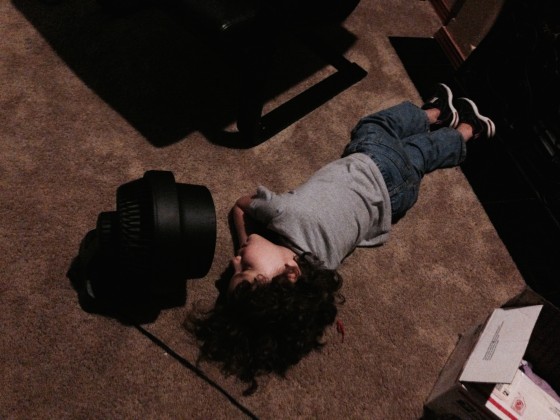 2014-07-16 04:53 UTC – Beating the heat with a fan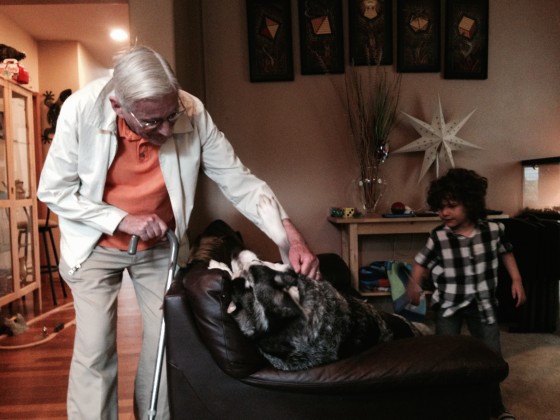 2014-07-19 18:33 UTC – Roscoe was very excited that Uncle David was visiting, but jumping on him to get attention was not encouraged, and he wasn't getting attention just standing there, so Roscoe got up on the couch where Uncle David could reach better to get a good welcome.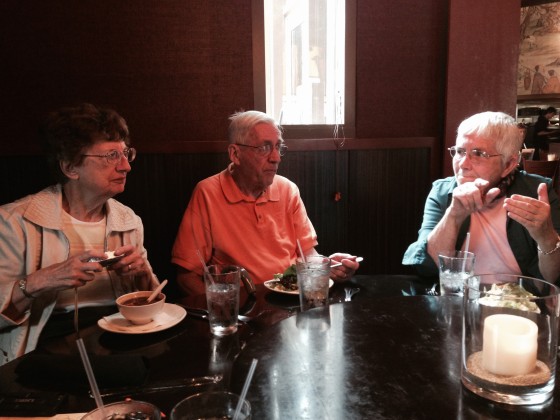 2014-07-19 19:51 UTC – Aunt Ann and Uncle David talk to my mom over lunch.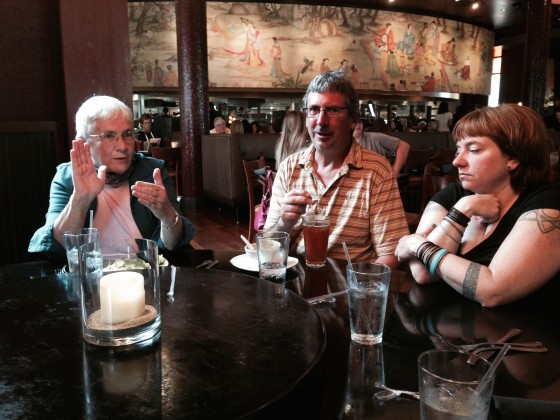 2014-07-19 19:52 UTC – My mom explains something to Seth and Jinn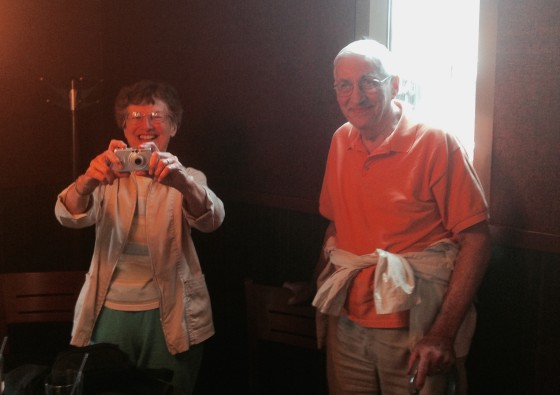 2014-07-10 21:17 UTC – Aunt Ann and Uncle David in the after lunch picture taking session

2014-07-20 00:20 UTC – Sometimes snuggles involve licks. A few seconds later Alex licked him back.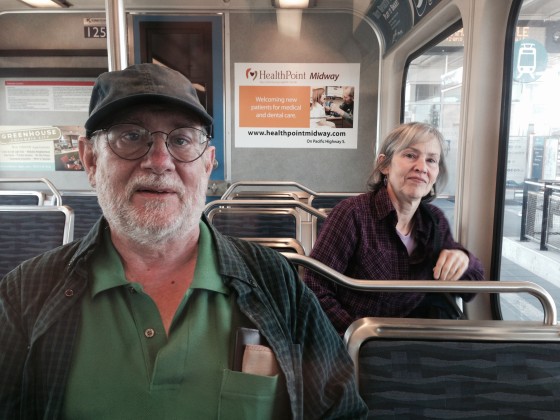 2014-07-21 20:32 UTC – Then Papa Bill and Grandma Cathy visited. We took a ride on the light rail to the airport!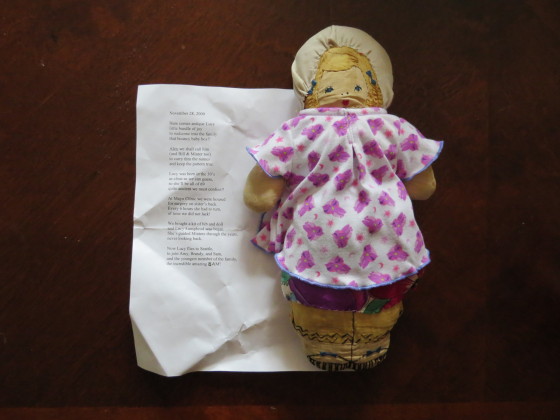 2014-07-22 21:01 UTC – Since there was going to be a big Minter family get together, this meant it was time to pass on a family tradition. This is Lucy Lumphead, as she was when we received her shortly after Alex was born. (Click the pic to make it big enough to read the note.)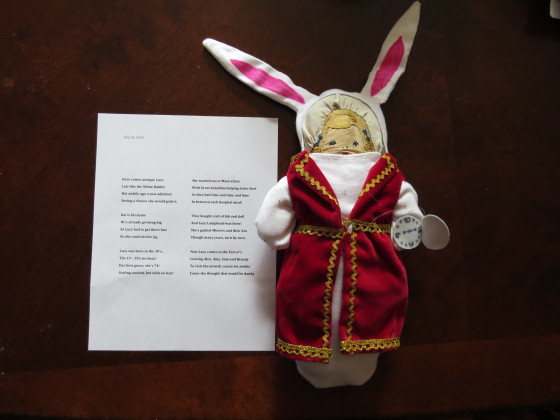 2014-07-22 21:06 UTC – And here is Lucy Lumphead as we passed her along to Cousin Maya's family. Brandy made the new costume. I wrote the new note. This doll has been being passed around in the family every few years for the last 74 years. (Click the pic to make it big enough to read the note.)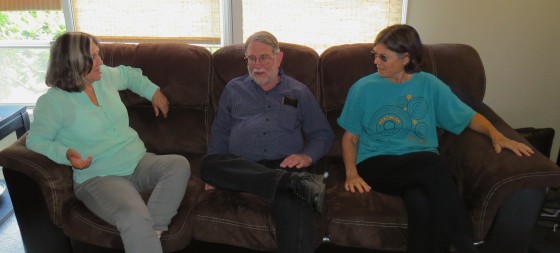 2014-07-22 23:08 UTC – My dad and his sisters Diane and Susan, all together at the same time for the first time in years.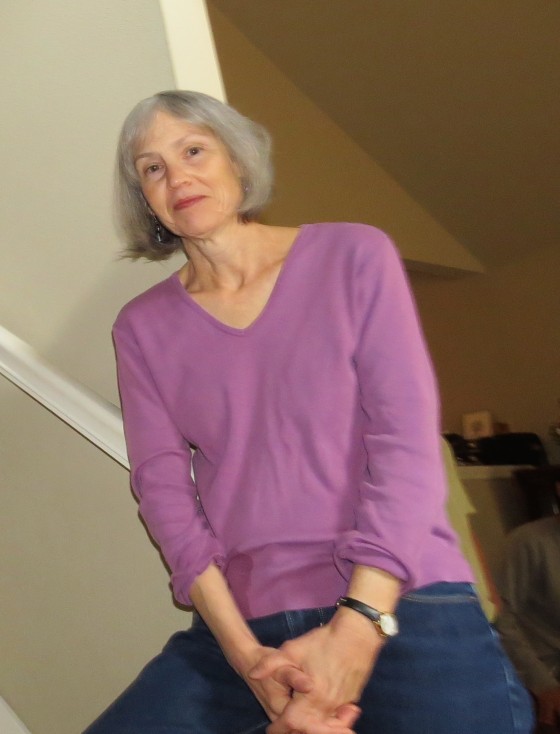 2014-07-22 23:16 UTC – Cathy at a quiet moment during the get together.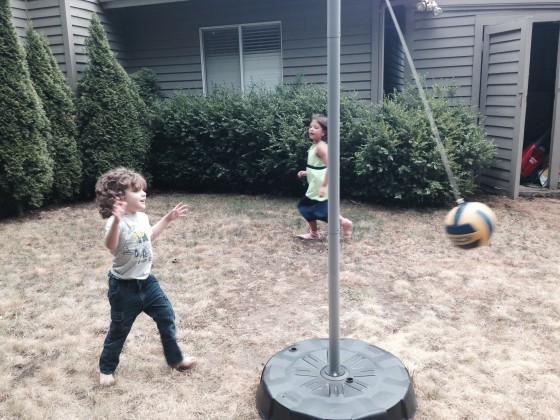 2014-07-22 23:41 UTC – Alex plays tetherball while Cousin Ella runs by.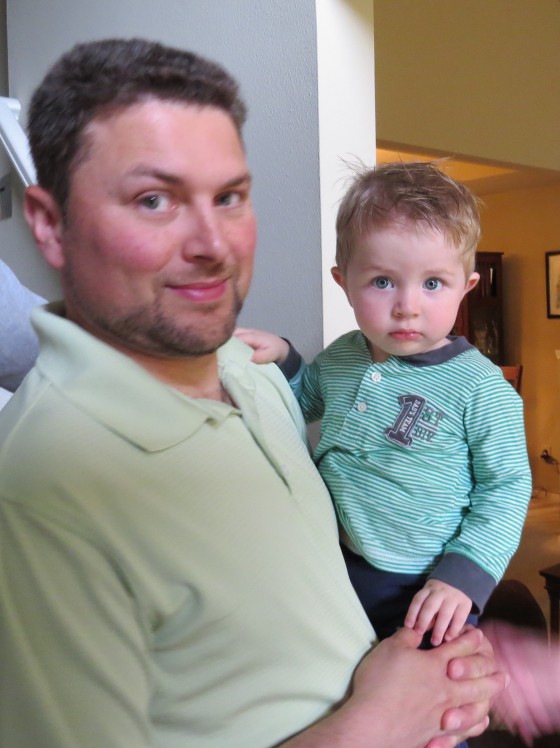 2014-07-22 23:48 UTC – Cousin Luca holds Kai, the youngest member of the clan.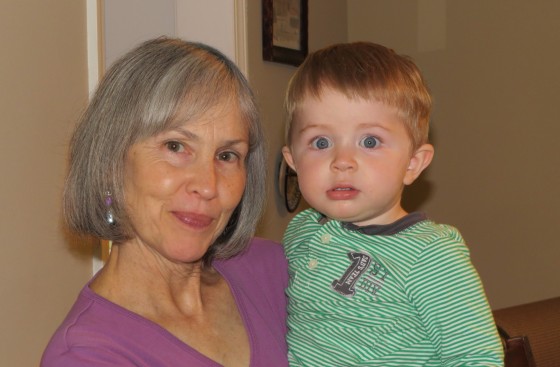 2014-07-23 01:35 UTC – Cathy with Kai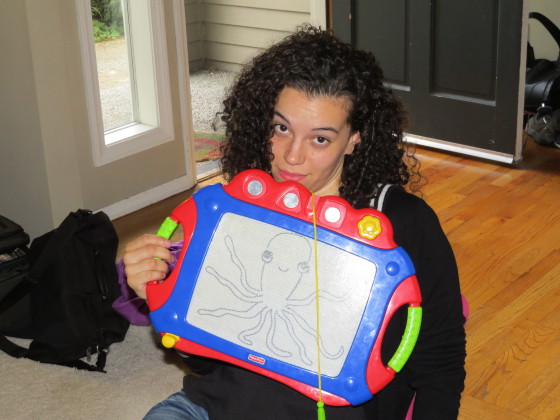 2014-07-23 01:37 UTC – Amy drew an octopus.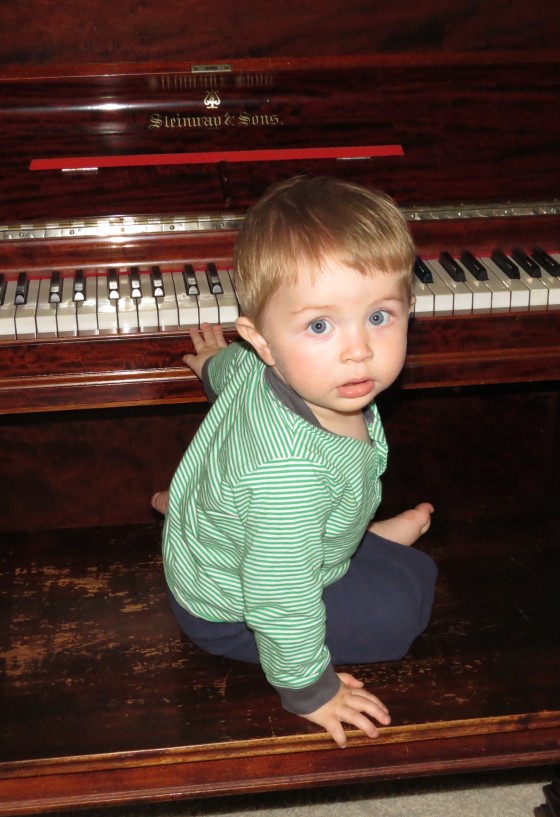 2014-07-23 01:38 UTC – Kai plays the piano too.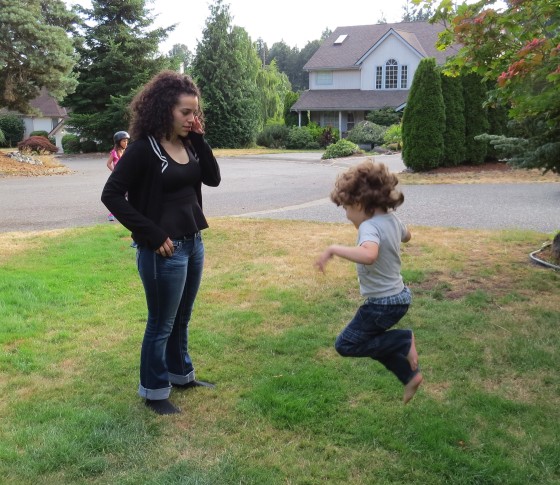 2014-07-23 01:45 UTC – Amy, look how high I can jump!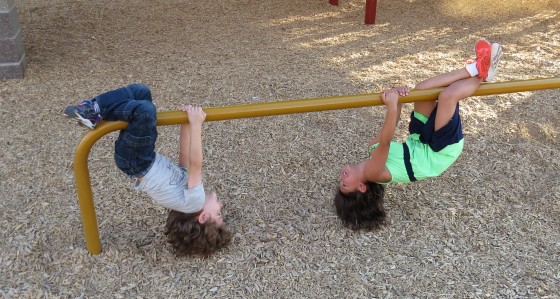 2014-07-23 02:18 UTC – At one point, Alex asked me if we could take a walk. Then he whispered and asked me if I could please ask his cousins Mia and Ella if they would come with us. Ella thought this was a great idea, and asked permission to take us to the playground at their school. So Mia and Ella took us to the playground. Seconds later Alex and Ella were doing this.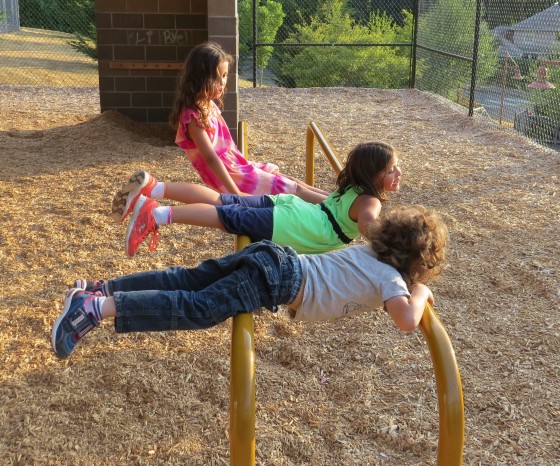 2014-07-23 02:24 UTC – Mia and Ella are Alex's favorite cousins. Especially Ella. We visit rarely, but Alex really enjoys spending time with them when he can.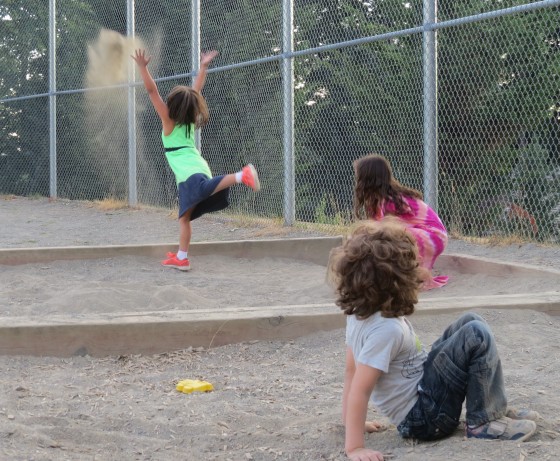 2014-07-23 02:39 UTC – Ella throws sand while the others watch. Of course within moments, they were all throwing sand.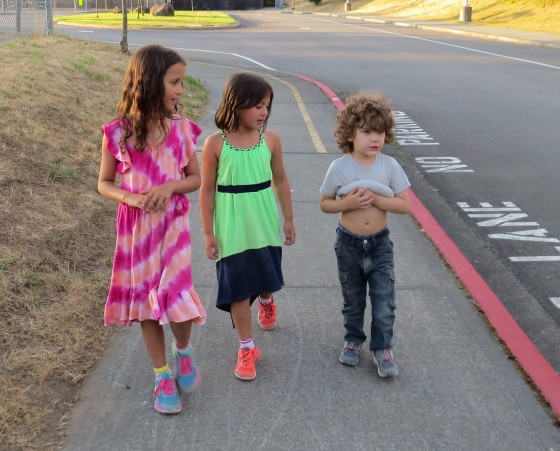 2014-07-23 02:52 UTC – The girls were amused because when it was time to walk home, Alex gathered a load of sand to carry home in his shirt. Halfway back, he dumped the sand and with their help transferred it all to his shoes, where it was easier to carry home.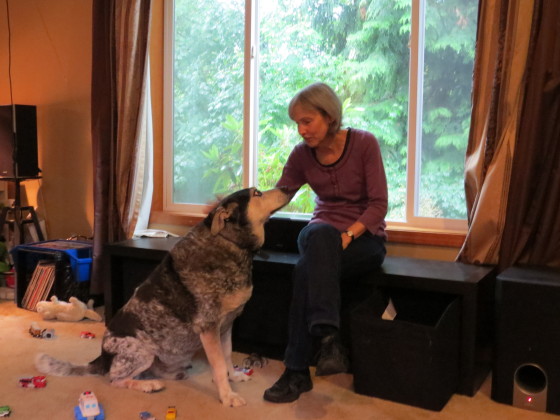 2014-07-23 18:35 UTC – Roscoe angles for some attention from Cathy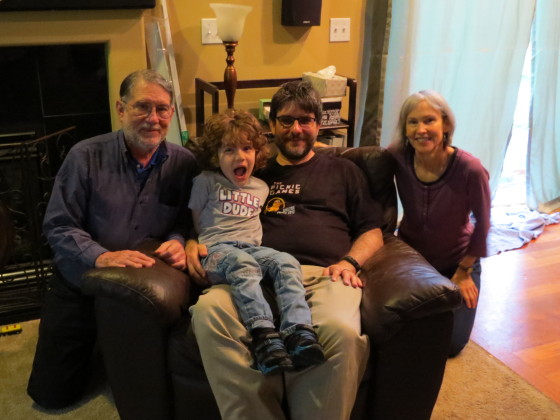 2014-07-23 18:36 UTC – Posing for a quick photo before Papa Bill and Grandma Cathy go home.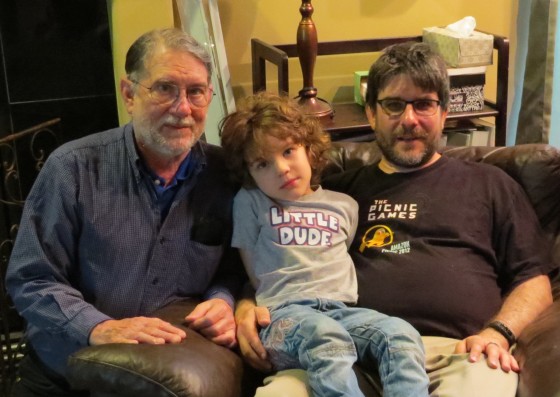 2014-07-23 18:37 UTC – One more with just the three generations of Minter men.