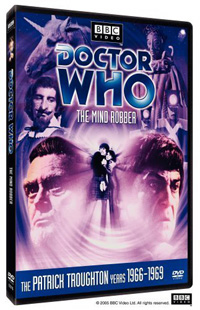 It has been a while since we watched one of these. Weekends have been busy and other things always came up. But last weekend we finally got back to it over the course of two days. This episode was actually aired before the last one we watched, but it was just released on DVD since we got that episode, so we went backwards and watched it. The story summary is here.
I was having some difficulty getting into the second Doctor's style here. This was a kind of abstract story set in a place outside of normal space, where fictional characteres became real. It had some moments, but out of the 2nd Doctor stories we have watched (this was the 3rd and currently last 2nd Doctor story available on DVD), I think I'd rank this one lowest. Even though it was 5 full episodes, it seemed like a transitional "filler" story that would have done just fine a bit shorter. Wasn't aweful or anything, just not as much fun as the other two.
Next Doctor Who DVD on the agenda will be a 3rd Doctor story, in fact the first 3rd Doctor story. And it will be in color!