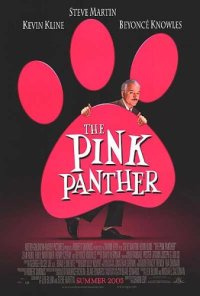 While Amy and Brandy were in town, we went to the movie theater right across the street from the apartment and saw the 2006 version of the Pink Panther. I had previously added all the movies from the old series of movies… eight movies from 1963 to 1993… into my Netflix queue, but of course they are way down the list and I won't be seeing them for years. Five of those had Peter Sellers for real, 1 more used old Peter Sellars footage after his death and the other 2 were attempts to keep it going without Peter Sellars that from what I heard pretty much failed and sucked pretty bad. But I haven't seen those, so I shouldn't judge…
In any case, I'd seen some of the original Peter Sellars ones many years ago as a child, or maybe as a teenager, but certainly not since. I think I saw some of them with my dad. So while I have some vague memory of them, I don't have any specific memories, so I wasn't really doing much comparison against them on this new version.
Anyway… I am not generally much of a fan of physical humor, but Steve Martin is really good at it and this was a funny movie. I found myself not wanting to laugh, because it was just plain stupid, but laughing anyway… because it was just plain stupid. I thought Steve's accent could have been better. But it was played for laughs, not reality, so OK.
This was not a movie about plot or characters or anything like that. Just a continuous series of sight gags and physical humor and the like. It had me chuckling, Brandy laughing and shaking her head that it was just wrong, and Amy laughing uncontrollably for 90 minutes straight. So I guess it did its job. I think though that it definately was that kind of comedy that is aimed at kids and such.
It was an OK time. It was funny. I laughed. But it wasn't particilarly memorable. I am alrerady having trouble remembering too many of the details and it has only been a few days since I saw it. And my main thought at this point is just that I really want to watch some of the old ones to compare.