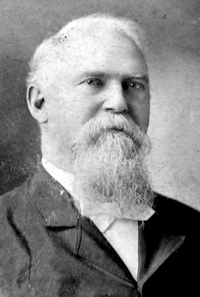 It has been a few weeks since I last posted an ancestor. That was Olive Sarah Wright who finished up the 3rd generation back from me. Now it is time to start the 4th. We start with my father's father's father's father. This is the first of my ancestors in this breadth first search who lived through the US Civil War. On the Confederate side this time. I actually have a decent amount of info on John Russell too.
John lived from 1833 to 1913, most of the time in South Carolina, with a brief interlude in California. He was married three times, with six children from the middle marriage.
Was a Farmer and Merchant
During the Civil War worked in the Confederate State Treasury Department.
He went to California for an unspecified time and was successful in real estate.
He gained a financial footing to run a successful farm and educate all of his children through college.
He returned to South Carolina but would not sign the loyalty oaths required under reconstruction.
John Russell was to marry Theodocia Roseboro of Chester, SC but she died on the wedding day. Remaining a batchelor for several years, John Russell acquired Sedalia house from the old Bobo family and established it as a plantation after the Civil War. It was originally a two room log house. He added to it until it was finally a large 12 room home with 100 foot long piazza. John Russell was called Papa.
There was a fire in the John Russell Minter home in Sedalia, SC on 15 Mar 1881. Daughter Fannie's dress caught fire before the fireplace. Her mother Fannie, pregnant with a near-term boy, rushed to help and her clothes also caught on fire. Daughter Fannie died that day; Mother Fannie and baby died 10 days later.
He was known all over the state as a splendid farmer who specialized in cotton, corn, cattle raising and other diversified crops. He won an exhibition in New Orleans on cotton and corn.
He was elected without running to the South Carolina legislature.
He built and supported Enoree Presbyterian Church and was elder there until he moved to Laurens in 1891.
At Laurens John Russell built a lovely Victorian frame home which extended beyond a creek and to another street.
Son James Ethelywn and family lived with John Russell and "Mother Catherine" in Laurens until her death in 1906.
From 1906 until John Russell's death son Edward Perrin and family moved in to be with John Russell.
Later in life as the family patriarch known as "Papa" with a short a
As usual, click on the picture for more information.