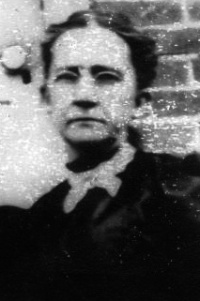 Time for #27 in my ahnentafel. This is of course my mother's father's mother's mother Margaret Weer. Born in 1851, died in 1924. Lived in Ohio all her life. Married Thomas B VanTilburgh and then had 13 children, the 5th of which was my great-grandmother Mary Evelyn VanTilburgh.
I mentioned when I blogged about her husband a couple of weeks ago that the two of them started a tradition of VanTilburgh Family Reunions that have gone on annually for almost a century. I think that is great, if only for the tradition of it.
Aside from the above, I don't know all that much about Margaret Weer. For awhile it even looked like she would be the first ancestor I got to in breadth first ahnentafel order for whom I could not find parents' names. I eventually got those names only because a random distant cousin of mine found my wiki pages on my ancestors while googling her own ancestors and was able to provide that additional information. I get those kind of emails about every other month now from newly found distant cousins. Which is great.
In any case, that is all I know about Margaret.