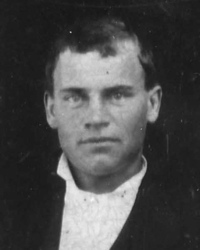 It is ancestor time! As we move through the tree in breadth first order, it is now the turn of my father's mother's mother's father. I actually know more about Lewis Napoleon Rayburn than many of my other ancestors of this generation, mainly due to some remembrances written by Charles C Rayburn, one of my grandmother's cousins.
He was born in 1860 in Rowan County, Kentucky. He served as Sheriff and Justice of the Peace in Lewis Co, Kentucky. He served two terms in the Kentucky State Senate. He was a farmer and a merchant. And then his grandson's Charles's notes about him:
Grandpa Rayburn —

He was in his early seventies when I was old enough to walk the one-fourth mile to his house. He was postmaster, which function occupied one corner of this small country store. By this time the store was out of business but the tobacco plug shear, candy jars and thread drawers remained on the counter top as reminders of the old store.

I sat on the counter top beside Grandpa as he unlocked and opened the US mail saddle bag. The mail came via mule back since the mail route was not negotiable by wheeled vehicles.

Grandpa would tell stories as I listened by the hour. Stories about his experiences as a school teacher; or his days as a traveling salesman for a general store distributer; or his political career as a state senator.

He stole Grandma away from her parents by night and rode thirty miles both on one horse that night and crossed the Ohio river to get married. He remembered Civil War soldiers coming through their yard and asking for water.

He unraveled many stories of his brother, my Great Uncle Jim. Uncle Jim killed his father-in-law who had planted a shot gun in a fodder shock to kill Uncle Jim as if by accident. I remember when Uncle Jim was shot in the hip by a robber. Grandpa loaded his pistol and took off to kill this robber. The robber was much younger and escaped into the hills. Fortunately Grandpa did not find him.

Grandpa was excellent with numbers. He also wrote well but had no need for periods or commas.

He was notary public which made him legal expert for the neighborhood. He understood the law regarding land transfers, wills, law suits and any official papers which came through the mail. Most of the residents of our community were functionally illiterate so Grandpa's services were especially needed. Also he provided his legal expertise at no charge.

His law office was a bench seat supported on each end by hickory trees beside the dirt road. He would counsel with his clients while I was privileged to listen in. The two of us sat there talking and whittling.

The second law office was his winter quarters by the fire place where he spent hours reading the paper and explaining the news to me along with his independent judgement on the various subjects. I watched as he chewed tobacco and smoked his pipe. Of course I had to do the same but not in his presence.

He and Mom had great respect and admiration for the other.

After I went away to school then into the military we kept in touch by mail. I wanted to be just like Grandpa.
He married in 1882. My ancestor was the third of eight children. He died in 1947. And that is about all I know. As usual, click through on the link above for the additional details I do have, my sources, etc.