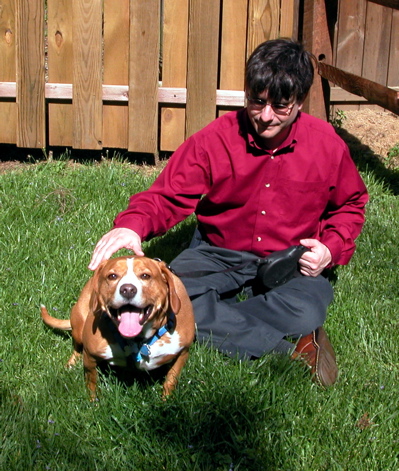 Another big part of the trip besides the things already mentioned was that I got to see Serendipity for the first time since December 2003. In dog years that is a long time! Sara did seem glad to see me and wanted to spend as much time with me as she could, so I'll choose to think that she remembered me. I have missed seeing her, as although my mother has managed to squeeze in a visit to me about once a year, me visiting in the other direction just hasn't been in the cards, so it has been forever since I saw Sara!
For those who may not remember, in the summer of 2001, I rescued Sara when I found her running loose in the middle of Interstate 95 in Pennsylvania. I saw her almost hit by a couple cars as I approached. I pulled over to the side of the road and managed to get her out of traffic and into my car. I tried every way I knew to try to find her original owners but failed. The vet said that she was probably about 3 months old and judging by the ticks she had when I found her she had probably been "on her own" for around 3 weeks. She also had a broken and healed rib, indicating at least one unpleasant incident in her past.
I took her in, but because at the time I was in an apartment, and was not yet on medications that controlled my allergies well enough to live with a dog, I could not keep her. But I was not about to give her up to a stranger. So I introduced her to my mother, and a couple months after I had found her, she traveled to my mom's house and they have been together ever since.
Anyway, I miss Sara. It was very good seeing her again.