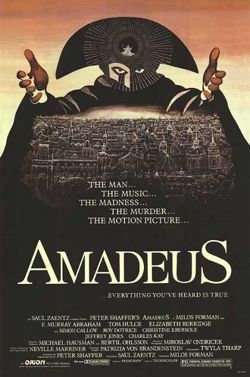 Time for another movie. This time it was my turn. And specifically, it was time for another from the AFI 100 Years… 100 Movies list. Having started at #100 almost a decade ago, I'm now at #53, Amadeus. It was long… on a double sided DVD that you actually had to flip over… so we split it over two nights of viewing.
Anyway, I think I had seen parts of it on TV over the years, but am not sure that I ever saw the whole thing straight through. If I had, I did not remember.
The movie of course won all kinds of awards after it came out in 1984. Sometimes that sort of thing holds up, sometimes it does not. In any case, I liked the movie. I'm always a sucker for period pieces and character stuff, and this was pretty much 100% that sort of thing. No chases and such, just period costumes, psychological drama, and lots of Mozart music as you track Mozart's life and interaction with Salieri. It is the kind of thing that after you are done compels you to go read a whole bunch of Wikipedia pages to learn more about the actual people and events as compared to the fictionalized version. Well, OK, at least it compelled me to do so. I probably spent a couple hours starting at the Mozart and Salieri pages and branching out from there to a variety of related people and topics.
Amy did not watch this movie with me, but Brandy did. She had watched it when it first came out, but not since. She said she had remembered she liked it, but was less impressed this time around. And particularly, she was annoyed by the character of Mozart's wife. Personally, I liked the wife. OK, she was a bit whiny at times, and did not seem particularly bright. But she was cute. :-)
Anyway, for those who haven't seen it in awhile, and who like this kind of movie, it is worth the rental.