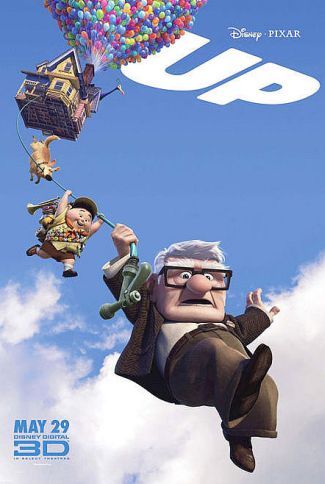 So I really wanted to see Up, and while we waited a little while after it was out to see it, I did drag the whole family to see it, and we saw it in 3D.
Suffice it to say that I agree with pretty much everybody who has reviewed this. I loved it. Great movie. The beginning part was particularly poignant. And then the fun adventure began. As usual for Pixar films, most of the characters are great, and there is a lot of good humor. I particularly liked the dog (Dug), and the bird (Kevin).
Parts of it were of course a bit predictable, but I didn't care. It was just a lot of fun. And it was cute. And it was funny. And it was sentimental. All the kinds of things I like in a movie. :-)
Now, by this point it has been out for a long time, so if you haven't seen it yet, go out and see it. Don't wait for DVD. And if you can see it in 3D, do so. It is the polarized kind, not the old colored glasses kind, so it works much better. Our only problem was that at the theater we saw it in there was a distracting dent in the center of the screen that was emphasized more with the 3D glasses on, but I'd still say the 3D actually added, without being too gimicky.
Anyway. Fun. Good. Go see.