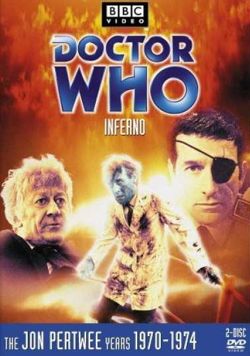 This last Friday Amy wasn't home, and the movie of the week was another old Doctor Who. This time it was the Third Doctor story Inferno from 1970. My vague memory is that this is the first Third Doctor episode I ever saw back when I was a teenager.
As of late as we have been going through the old episodes, I have been anxious to get past the 1960's stuff and get on to the slightly more recent 4th Doctor and beyond stuff. But some of the 3rd Doctor stories actually aren't too bad. This is one of those. I didn't have strong memories of this story, so I've been pleasantly surprised. I've enjoyed it so far. Some funny moments. Interesting story so far, etc.
Now, this was only Episodes 1-4… 5-7 are on Disk Two. So we'll see if I continue to think the same way.
But for now, I think of the 3rd Doctor episodes, I kind of like this one.
[Edit 2009 Sep 22 02:48 UTC – We just went to watch disk two, only to find it was all extras, and in fact all seven episodes of this were on the first disk. So please ignore the above, a new review will be posted once we watch ALL of Disk One.]