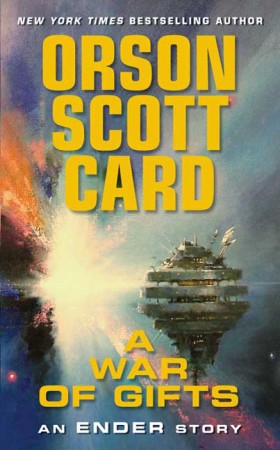 Author: Orson Scott Card
Original Publication: 2007
Started: 2011 Jan 18
Finished: 2011 Jan 19
Format: Kindle
1294 locations / 2 days
647 locations/day
I continue my tradition of writing "quick" reviews of books over a year after I read them… uh, almost two years after I read them. Oops. Anyway, I guess this has value as it leaves in my head only what is fundamentally memorable about a book, not just the initial impressions.
So on Orson Scott Card's War of Gifts, basically my memory at first blush was really weak:
It is yet another in the Ender series. #10 in publication order.
It is not a full novel. Maybe a novella? Really not much more than a short story.
It has a Christmas theme.
That is about all that persisted in my memory all this time, so I reviewed the Wikipedia page to refresh my memory.
It really is an oddball little Christmas story that doesn't fit in all that well with the rest of the series. It is like when your favorite hard rocking band comes out with a Christmas album. Some kind of effect. You end up thinking "Uh, OK. But what??"
In the end it wasn't a bad little short story. It just seemed out of place.
The five second plot summary is that a student who is fairly religious arrives at battle school, where overt religious expression is forbidden as divisive. Hijinks then ensure over the Chirstmas season as various groups try to express their religious beliefs in various ways. Finally, Ender comes in and plays diplomat and resolves the situation.
The end.
If you are trying to be a completist and read all the Ender books, by all means this needs to be part of that. Otherwise though, I'd probably skip this.
OK, as has been my pattern, with each review, a couple of graphs regarding Kindle coverage:
% of the last 20 books I reviewed that are now available on Kindle: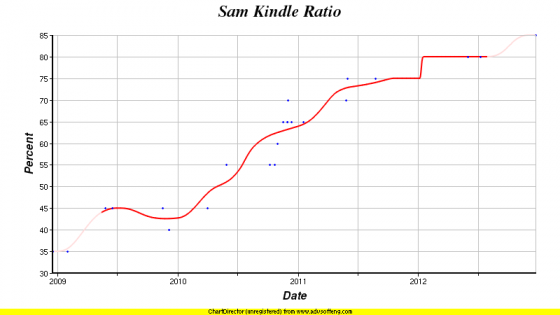 % of the last 20 books I read that I actually read on Kindle: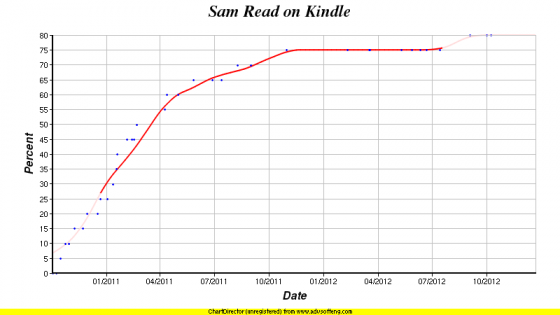 (I bought my Kindle when the first ratio hit 50%. I've said before that I'll do these charts until the ratios get to 90% or so.)