Chronology:
Sometime in late January, our downstairs toilet starts not draining properly

Brandy spends several weeks fruitlessly plunging it and using all sorts of drain cleaners and toilet snakes.
Each time, it seems like it kind of works for a very short time, then it starts backing up again.
We are busy. We have other bathrooms. It sits with an out of order sign for weeks.
One of the many times that Alex tells us "downstairs potty broken, mommy fix it soon" we think to ask…
"Alex, did you flush anything down the toilet that doesn't usually go down the toilet?"
"Ahh… (thinks for a few seconds)… Yes!" (It had now been many weeks since he must have done it.)
"Uh, Alex, what did you flush down the toilet?"
"My penguin light."
"Alex, why did you flush your penguin light down the toilet?"
"It not spin. Me done with it. Flush down down down! All gone!" (Or something similar to that, I didn't write down the exact words at the time.)
We are busy. Several more weeks pass.
About an hour ago, I get home from work, Brandy has removed the toilet from the floor.
I help turn it sideways so we can see in the bottom: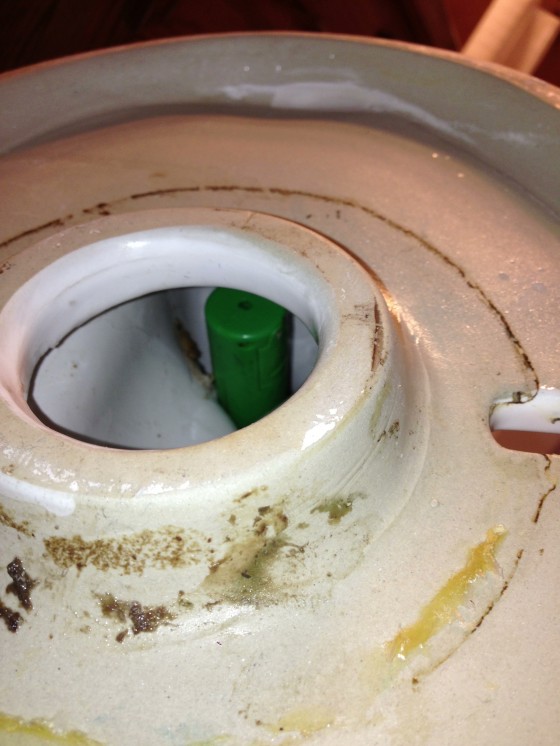 Yes, indeed, there was the handle of Alex's penguin light. It was one of those things where you push a button and the little lights inside the globe at the top spin around. But this one had extra plastic bits to make it look like a penguin with a Santa hat on with the lights spinning in the stomach of the penguin.
So after a few minutes of lifting the toilet up, flipping it in different directions, and shaking it, out popped the penguin.
Amy has told me that I am not allowed to post the pictures I have of the actual penguin, due to it being disgusting and caked inside and out with human waste and all, but if anybody wants to see pictures, just ask, and I'll happily send them along.
We'd been talking to Alex since he told us about flushing the penguin about how that was why the toilet didn't work, and how he should never flush things other than the things that normally go in a toilet. But we took this opportunity to show him the penguin and ask him if he would ever do that again. He said he wouldn't. We shall see I guess.
As I was writing the above, Brandy calls and asks me to come down so I can help her with something. I say "just a minute" while I finish writing one of the bullet points. Then I go down. By that time, she had decided not to wait for me, and had already put the toilet back on, and it looks like it is just about all set again.
Anyway… I know just about every parent gets this at one point in time, but it was our turn this time. Fun fun toys in the toilet fun!