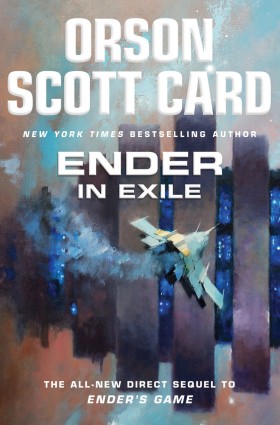 Author: Orson Scott Card
Original Publication: 2008-11-11
Started: 2011-02-05
Finished: 2011-02-13
Format: Physical
380 pages / 9 days
42.2 pages/day
This is not the last Enderverse book, but this is the book that Brandy had gotten me for Christmas/Birthday/Something that had prompted me to systematically use all my fiction slots from May 2009 to February 2011 for reading all of the Ender Series books up until that point. I liked the series, but for the most part it started strong and got weaker as it went. And almost two years of no fiction other than Orson Scott Card was probably a bit much. I'm not sure I'll give that sort of special treatment to a series again, even if I am gifted a book that is not the next in the series I have to read. After this book was read, the next Ender Series book… Shadows in Flight is on my big list of potential fiction to read but is not given any preferential place relative to anything else. Which means, at the moment, it has a 1 in 203 chance of being picked the next time I pick a fiction book to read.
Anyway, how was the book itself? Well, the whole enjoyment score I mentioned in my last post is out the window, because I read a physical paper version of this book. But my 2+ year old memory of it is basically that it was OK. Not great. Nothing special. But OK. It filled some additional gaps in Ender's life that hadn't been covered in the previous books, and it started typing things together with the Bean books in the series. So, fine for Ender completists, but unless you are making sure you read all the Ender books, I probably wouldn't bother.
I can't use the locations per day as a score, but it still can be ranked within the physical books by page per day, so lets give that a shot. The last ten books reviewed at this point are:
695 – Shadow Puppets (F)

656 – Fatal System Error (NF)

647 – War of Gifts (F)

614 – Shadow of the Giant (F)
446 – First Meetings (F)

326 – All the President's Men (NF)

NA – [Physical 42.2 pages/day] Ender in Exile (F)

NA – [Physical 25.8 pages/day] Nurtureshock (NF)
NA – [Physical 14.9 pages/day] 9 Ways to Bring Out the Best in You and Your Child (NF)
NA – [Physical 9.08 pages/day] Agile Project Management with Scrum (NF)
And now the graphs:
% of the last 20 books I reviewed that are now available on Kindle: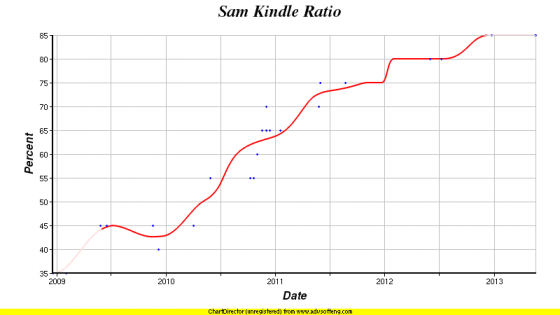 % of the last 20 books I read (including 26 I haven't reviewed yet) that I actually read on Kindle: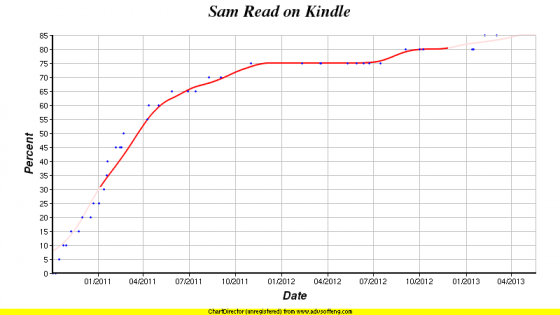 (I bought my Kindle when the first ratio hit 50%. I will do these charts until each ratio gets to 90%. We are close, but not quite there yet.)