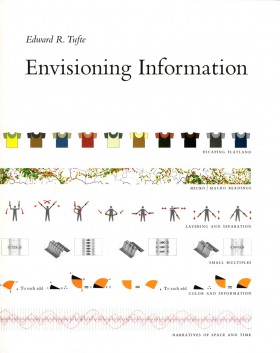 Author: Edward R. Tufte
Original Publication: 1990-05
Started: 2011-02-13
Finished: 2011-02-16
Format: Physical
126 pages / 4 days
31.5 pages/day
Envisioning Information is the second of the series of information design books from Edward Tufte. After the first book, I thought, yeah, he makes some good points, but he is a bit overhyped.
It has been a long time since I read the second book, but I don't remember anything that changes that assessment. In addition though, it seemed that most of the good points were made in the first book and there was a lot of repetition in the second book.
More and different examples to be sure, but used to make the same general points over and over again. Some of the points Tufte makes (making sure what you present is clear and uncluttered by "chart junk" for instance) I think are great.
Others, such as where he pushes the idea of super high density information displays of information I think are not as well placed. SOMETIMES having those sorts of things that are jam packed with information that you can explore for hours is great. But MOST of the time, having something that as clearly as possible focuses in on the specific things you are looking at can be far more useful.
There is indeed a place for both of course.
Anyway, there are of course lots of nice examples of information design. Some Tufte calls out as wonderful, some he calls out as horrible. Sometimes I agreed with him, sometimes I did not.
And don't get me wrong, a lot of this is fun to look at, and there is good discussion. I just felt I had probably gotten most of what I was going to get out of it in the first book. And of course, this isn't the last of the series.
And now, the ranking of the last 10 books reviewed by reading speed (ones with kindle locations first, then ones with only page speeds):
695 – Shadow Puppets (F)
656 – Fatal System Error (NF)
647 – War of Gifts (F)
614 – Shadow of the Giant (F)
446 – First Meetings (F)
326 – All the President's Men (NF)
NA – [Physical 42.2 pages/day] Ender in Exile (F)
NA – [Physical 31.5 pages/day] Envisioning Information (NF)
NA – [Physical 25.8 pages/day] Nurtureshock (NF)
NA – [Physical 9.08 pages/day] Agile Project Management with Scrum (NF)
And now the graphs:
% of the last 20 books I reviewed that are now available on Kindle: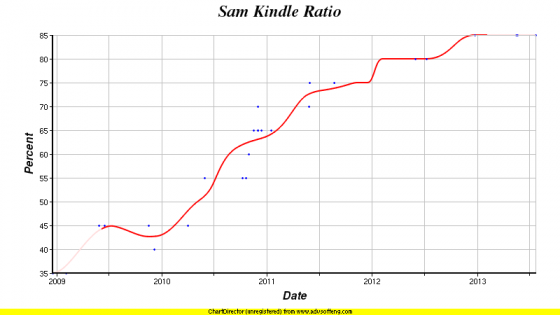 % of the last 20 books I read (including 27 I haven't reviewed yet) that I actually read on Kindle: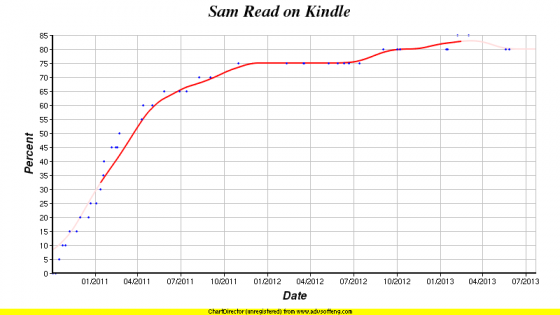 (I bought my Kindle when the first ratio hit 50%. I will do these charts until each ratio gets to 90%. We are close, but not quite there yet.)