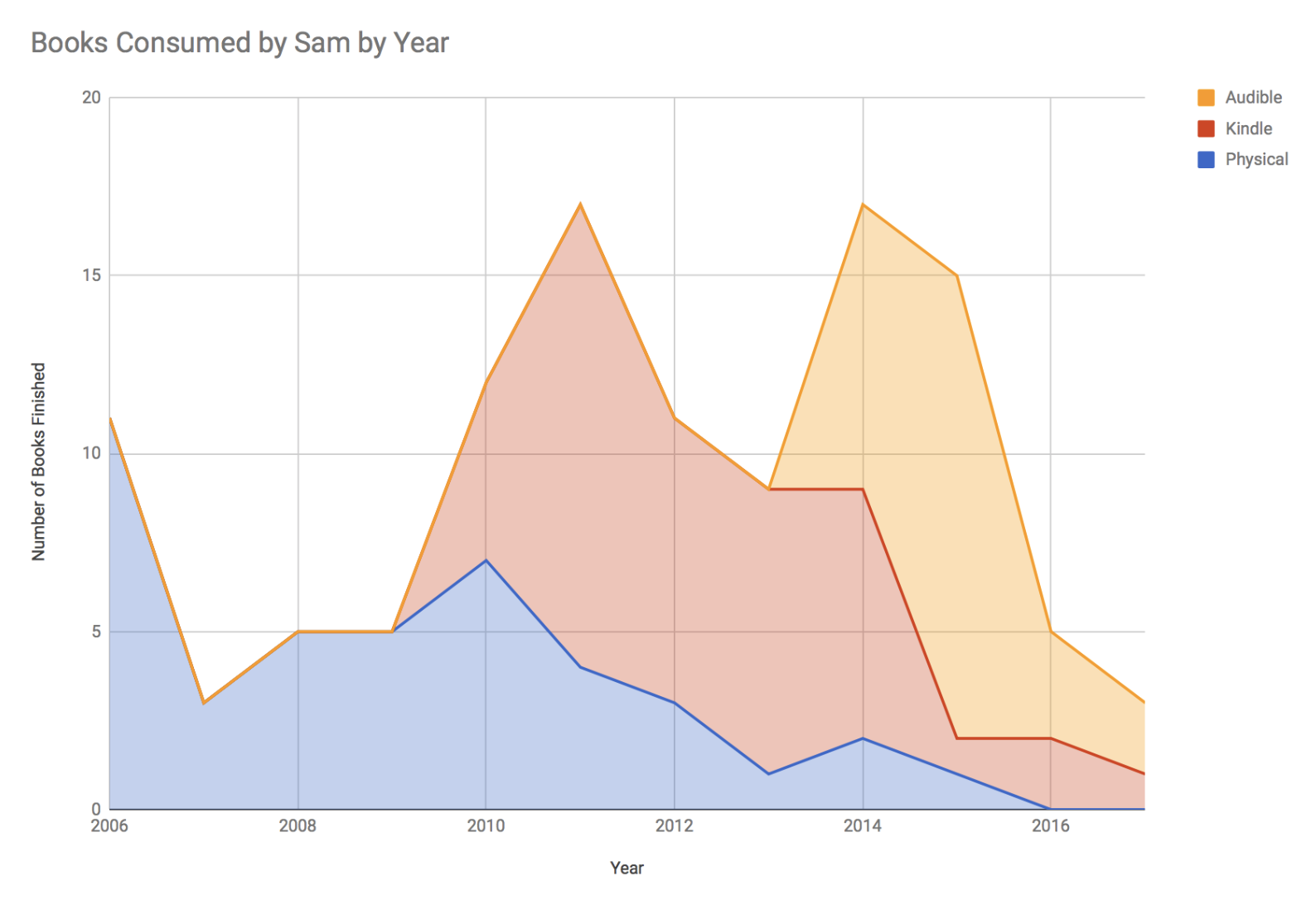 I've been thinking lately about how I have not been reading nearly enough books lately. This is a problem.
I've been tracking the books I read since 2006. The graph above quantifies it. Although I was bad in 2007-2009 too, I'd been keeping up a decent pace of reading from 2010-2015.
A decent pace for me anyway. My average in those years was 13.5 books per year. I know a lot of people read much more than that… and I even read more than that myself when I was much younger… but I think I'm OK with anything above 12 per year at the moment. One per month.
In 2016 I fell off a cliff though. I only finished FIVE books. In 2017 it was even worse. Only THREE.
I semi-joke that I blame Trump and Twitter, but there actually is quite a bit of truth to it. Starting with the 2016 election year, and going forward into the Trump administration, it has felt like if you turned away for even a few moments, you would miss something important happening. So all those spare moments that I previously might have spent reading a book (or even listening to an audio book), instead were spent on Twitter, listening to live news, listening to news related podcasts, or whatever.
The key being it had to be real time or near real time. Reading tweets from a few minutes ago? Of course! Reading an article that was written earlier today? OK, fine. Reading an article that was written yesterday… MAYBE, if it was a really important one, but you're stretching it. That is way too far out of date! A magazine article from a week ago? Don't make me laugh! A book written years ago? Doing that felt like every moment spent on that was a moment I was disengaged and out of the stream of what was happening. What did I miss in the time it took to read that chapter? That was just painful.
All of that is of course silly. Nothing bad will happen if I disengage with the news for a few minutes to read a book. Frankly, if anything really big happens, I'll get an alert anyway. But even if I didn't, it isn't like I have to DO anything with that news in real time. I'm not going to be the one making big decisions in reaction to that news. I'll talk about it on my podcast maybe, but that is a weekly thing. Maybe I'll want to tweet, or even though I haven't done it much in recent years, write a blog post. But all that can wait. And is frankly optional anyway.
I can take 20 minutes (or more!) at the end of the day before bed or pull up my Kindle app sometimes on my phone instead of Tweetbot when I have spare moments here or there. I can listen to an audio book on my commute home instead of a news related podcast or live news channel stream! I can! I really can!
So a few days ago I made a resolution. Lets call it an April Fool's resolution even though it wasn't quite on April 1st. I decided that for 2018 I'll make a conscious effort to do a bit more book reading than I have in the last two years. Maybe I won't exceed the 17 books finished that I hit in 2011 and 2014, but maybe I can at least beat my average over the last decade of 9.9 books per year by finishing at least 10. Maybe I can even manage a one book per month average!
I've finished only 1 so far this year, so I've got to get to it. In the last week I've probably already read more and listened to more audio book content than I had in the previous three months, so I guess I'm off to a decent start…
I'm way down on watching TV shows and movies too, but dealing with that can wait for another day, or maybe that is just fine…
The last "book" post I did was the list of all the books I finished in 2011. To catch up, here is a list of all the books I finished from 2012 to 2017. I used to do little mini-reviews of each book as I went along, but no time for that, so just a list… I'll report back on 2018 once it is over to see how I did.
2012 (3 Physical, 8 Kindle, 0 Audible = 11 total)
2013 (1 Physical, 8 Kindle, 0 Audible = 9 total)
2014 (2 Physical, 7 Kindle, 8 Audible = 17 total)
2015 (1 Physical, 1 Kindle, 13 Audible = 15 total)
2016 (0 Physical, 2 Kindle, 3 Audible = 5 total)
2017 (0 Physical, 1 Kindle, 2 Audible = 3 total)
2017-03-08, Non-Fiction, Audible, Stiff by Roach
2017-04-08, Fiction, Audible, With the Night Mail by Kipling
2017-05-30, Non-Fiction, Kindle, Spam by Brunton