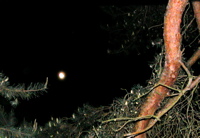 Tonight was the night where for my location the moon was directly in front of the location of the DirecTV satellites. I had planned for weeks to go outside and look when the moon was in front of the middle of the three. And there it is. The moon from a spot where we could put a dish. Clear as a bell. Basically, this means we shouldn't have a problem getting a signal when Brandy and Amy move out here and we get the dish installed here. I specifically chose an apartment complex that was clearly dish friendly. The only remaining question was if we could see the satellite from a location where we could put our dish. Yup. Sure can.
The view there is actually of the location for the 110 satellite. The 119 satelite had it's moment a little later in the evening. It isn't quite as clear a shot, but should be fine too. Because I didn't think of checking all three until after the time for the middle one, I missed checking the first of the three, the 101 bird. I actually was outside around that time, just didn't know I should be looking. I think it was fine though, with perhaps an even clearer shot than the other two. I'll get a second shot at the 101 tomorrow though, so I'll double check. 101 is actually the most important if I recall correctly… quite a few channels are on that one.
In any case, a quick double check tomorrow, but looks like we should be good. Whew!
This will carry us until the HD Cable Card Dual Tuner Tivos come out late in the year. Then it will probably be time to dump DirecTV and go with that. We shall see. All depends what everything looks like in 6 months or what not. I like DirecTV, but I have DirecTV for the Dual Tuner Tivos, not the other way around. (The new Dual Tuner SD Tivos are cool, but aren't 100% if you have premium channels… the cable card one will be the way to go for sure.)