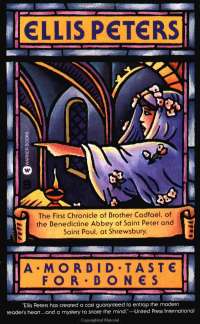 Author: Ellis Peters
Started: 5 Jul 2006
Finished: 10 Jul 2006
197p / 6d
33 p/d
A little delayed writing this up. I finished this on the first day the movers were packing us up in Florida. (Which reminds me, I should post some time on what a bad job they did and all the stuff that got screwed up.)
In any case, this is the first in the "Chronicles of Brother Cadfael". A few Christmases and birthdays ago my mom had given me a Cadfael book… the LAST of the series actually. I was bad and read it before reading earlier ones in the series, but decided it was worth reading more. So I ordered the first in the series. Several years later, it made it to the top of my pile and I read it.
Basically your standard murder mystery sort of thing except it is set in the middle ages and the detective is a monk. This one centers around a quest to get the bones of a saint for the monestary and the events that end up surrounding that.
In the end it was OK, but did not super impress me. If I remember correctly (it was years ago) I liked the other one I read better. This one just never fully held my attention. It was still a pretty quick read, but I was never fully drawn in. There was never a time where I felt like I had to keep reading rather than putting it down for awhile.
I'll still read the next one in the series (eventually). But I'm won't be in a super rush.