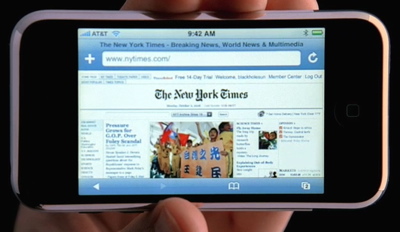 This thing is incredible, and it is just the first release. Easily instantly the best smart phone on the market by far. Blows away the Treos and Blackberries and Windows Smartphones that are out today. As usual, even when the existing phones have the feature, it just isn't anywhere near as polished or slick as Apple makes it. You can also see places where certain things are not yet there… but you know they'll be there in the next revision or two.
Corporate email probably won't be adding support any time soon, which sucks, but for a personal phone for everything other than syncing with work email and calendars… I know it is often good to wait until the second revision, but the UMF and RDF on this one is strong…
It won't be out until June though. So that gives a bit of time to digest and plan. We're on Sprint right now. Getting this would mean getting Cingular. Changing providers is a bit of a pain. Especially since we have a family plan for the three of us plus Brandy's mom and Brandy and Amy may or may not want to switch too… But I have six months to work on them. :-)
I just stuck it on our list of things to budget for and it is actually quite a way down the priority list. At the moment there are 7 things on the list at a higher priority level. And more will probably jump ahead of it in line before we get to it, so it may end up waiting until 2008 rather than 2007. But waiting will be difficult. This thing is sweet. I must have it.
And then get a new one every year when they come out with better ones. :-)
Full coverage of the keynote at Engadget with all kinds of details on the phone. Apple's official iPhone page is now up too.
Oh yeah, I want the Apple TV thing too, but at a much lower priority. It is cool, but it is not an "I want it NOW!" item.