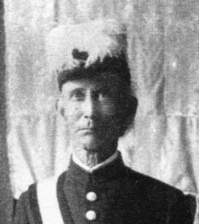 Guess what… yup, time for another of my ancestors. In my systematic posts in ahnentafel order we are now up to #20… my Father's Mother's Father's Father.
That would be James Raymond Wootton who was known as "The Little Sheriff" of Central City, Kentucky. He was apparently known for being "smart" at catching the criminals, and for having a pack of bloodhounds that he used for that purpose and had trained to only eat from him so nobody would poison them.
He was also a member of some sort of Freemason/Shriner type fraternal organization. At this point I have not identified WHICH such organization he was a part of, but I know that the hat, belt, sash, sword and scabbard that made up his costume and which you can see in this picture are currently located at my father's house. I quite well remember in my teenage years taking them out and looking at them… and probably putting them on… I mean, come on, OK, the hat with the feathers is a little goofy, but it was a real sword!
Anyway, he was born in 1850 and died sometime before 1918 when my grandmother (his granddaughter) was born. He married Susan Catherine Groves in 1873. My great grandfather was their fourth child.
He sounds like an interesting character, and I wish I knew a bit more about him. But for now that is all I have.