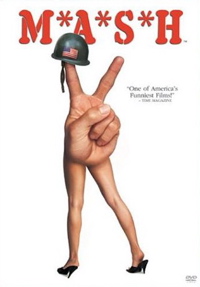 Once again while I hate to post two DVDs in a row, nothing drove me to post in between. So here we go.
This time I am once again on my quest to watch all of the 100 Years 100 Movies list the AFI put out in 1997. They just announced that they are going to revise the list this year for the 10th anniversary of them originally putting out the list. I need to get my pace up! I started this process at #100 soon after they put out the list. M*A*S*H is #56. Which means I have watched 45 of these movies in 10 years. I need to watch the next 55 a lot faster if I'm going to watch them all before they revise the list! Who am I kidding, I'm not going to get them all watched that soon. But I'll finish off the old list (it'll probably take another 10 years) then I'll go back and pick up whatever new movies they add since then. :-)
Anyway… M*A*S*H. It was nominated for some awards when it came out. It made #56 on this AFI list. I must admit I don't see the appeal at all. Now, maybe it is because I watched the TV show a lot when I was younger and was used to that, but it just did nothing for it. But I'm not sure that is really it. It is more that this movie was not a single coherent story. It was more like several separate episodes of the TV series (or a TV series) . But they weren't funny. And there was never enough length to really get to know the characters. And you (or at least I) never really cared about them at all.
It was neat seeing Radar, cause of course unlike all the rest, he was played by the same actor in the TV series. But otherwise, it felt like there was nothing to see here. It plodded forward. A few things happened. Hearing the theme song with the actual lyrics rather than the instrumental version used in the TV show is neat. But that really is about it. There is the shower thing with Hot Lips, there is the whole fake suicide thing the theme song was written for, and there is a stupid football game thing at the end. And then it ends.
Woo. Anyway, no need to see this one again. Once was more than enough. Before I started this I actually thought I'd seen it before many years ago, but after seeing it I realized I'd only seen bits and pieces on TV… and I'd always switched to another channel after watching only a few minutes at a shot. Now having watched the whole thing, I understand why.