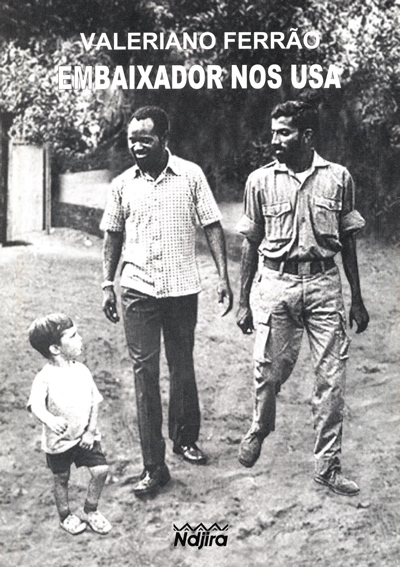 The book above is not available at all your normal book outlets. (At least not for the vast majority of the readers of this blog.) These are the memoirs of Valeriano Ferrão, who was Mozambique's ambassador to the United States from the mid 1980's to the mid 1990's. It was just published in Mozambique. He is the one on the right of the cover. In the center is Samora Machel the first president of independent Mozambique. And who is that on the left? Oh yeah, that's me. :-)
According to my dad, who just received an actual copy of the book:
The caption on the photo in the inside of the book reads:

O autor com President Samora Machel e Samuel Minter, filho de Ruth e Bill Minter, professores na escola de Bagamoyo

Translation: "The author with President Samora Machel and Samuel Minter, son of Ruth and Bill Minter, teachers in the Bagamoyo school."
I of course do not remember being there when this picture was taken. I do remember meeting Ambassador Ferrão a number of times when I was a teenager living near Washington DC. And I remember meeting President Machel once during those same years when I got to attend a reception for him while he was on a state visit to Washington. I remember him quite clearly saying something along the lines of "This is little Sam? He looks so much like his father. I remember you when you were THIS tall…" and showing his hand at a level about at my height in this picture. Not too long thereafter he was killed in a plane crash the cause of which is still controversial today.
In any case, I have now made my way to the cover of a book. Although I don't imagine I feature in the narrative itself at all. :-)
It is somewhat strange to me that at that age I was in the middle of some very interesting and historic events, but because of my age I have no memories of it beyond snippets of stories from my parents. (For instance, I know I was passed overhead from person to person to get me out of a stadium where there was a major rally celebrating independence to keep me from being trampled by the crowds… but of course I don't remember a thing.) I think I am now at an age where I could appreciate those memories and learn from them. But they are not there. I was a little too young to retain anything.
And even when I visited Mozambique again for a few weeks while I was in college, I was still a little too young and not quite ready to get a lot of value out of it. The culture shock was a little too big and the time too short. Perhaps someday I'll visit again. But probably not any time soon.