I have updated the Delegate Graphs.
On the Democratic side there were no delegates awarded from Michigan. However CNN (where I get this data) updated their numbers based on more superdelegates declaring their support for Obama and Clinton… and Richardson's delegates going away.. and for some reason Edwards actually losing one delegate too: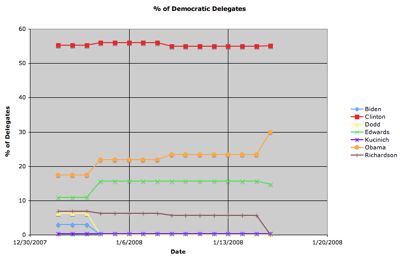 Clinton still retains a commanding (over 50%) lead in delegates already committed. But as a percentage, she has pretty much been holding steady. So has Edwards. Obama is gaining.
On the Republican side, there were indeed delegates awarded today. Romney got 10 and McCain got 8: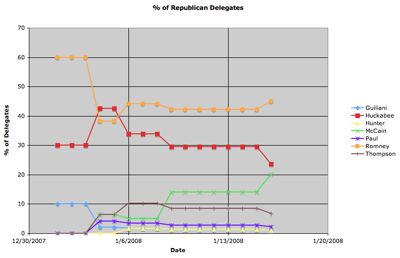 Aside from the two days between Iowa and Wyoming, Romney has been ahead the whole time. With his win in Michigan tonight he increases his lead somewhat. He's got about 45% of the delegates so far and has stayed about there through the last couple of states. Huckabee hasn't gotten any new delegates since Iowa, so his percentage has been dropping. McCain has been rising and is just short of catching Huckabee at the moment.
Next up… Saturday gets us Nevada for both parties, and South Carolina for the Republicans.
Nevada on the Dem side… three way race between Obama, Clinton and Edwards… could go ANY way.
Nevada on the R side… who knows… only one poll so far, also looks very up in the air… McCain, Giuliani, Romney and Huckabee could all do OK.
South Carolina on the R side… looks like Huckabee vs McCain if you look at the most recent polls. With McCain ahead in all the recent polls.
So… craziness on both sides.
Bring on Saturday. This is so much fun.
[Edited 04:44 UTC to update totals gained by Republicans in Michigan with later figures.]
[Edited 17:34 UTC to revert to the totals and graphs I originally posted with… I shouldn't have changed it in the first place… history revisionism and all… in any case, all delegates from Michigan had not yet been allocated at the time of my post, so there will be a further update tomorrow… in a new post, not this one.]