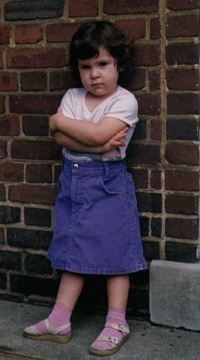 Although she, and most people, would look at a calendar and say it happened yesterday, on Friday… I of course calculate using the true astronomical length of a year and all that… and I know that in just under an hour and a half, at 06:42 UTC today (which is 1:42 AM Eastern) my sister Cynthia will be exactly 18 years old.
18 years old!!!! When did that happen? Last I knew she was the kid in this picture. But she's not any more. She's a senior in high school. Top of her class. Ready to go to Oberlin in the fall.
Wow. 18.
I was 18 (and a few months) when she was born. I remember being in my room at Hampshire Hall in Pittsburgh when I got the news. It seems like a lifetime ago, and I guess it was.
Anyway. My sister. 18. It blows my mind.
Just wish we weren't a 2750 mile drive away from each other and I could see her more often.
Well, I guess in the fall she will move to Ohio and we'll only be a 2375 mile drive apart. That's much better. :-)