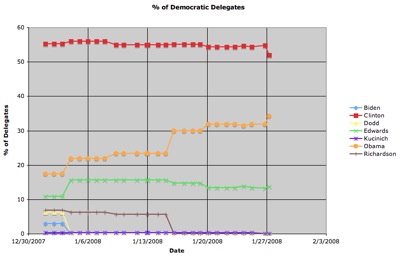 There we go. After Obama's big win we can see that the lines moved… a little bit…
Actually, even though it wasn't by a huge amount, this is the first time you can see the Hillary line make a move that didn't seem trivial. She dropped from having 54.8% of the delegates yesterday to having 51.9% of them now. Now, that is still more than 50%, but it is dropping.
Obama went from having 31.9% to having 34.3%.
For the Dems, next stop is Super Tuesday. So far there have been 443 delegates determined. On Super Tuesday there will be almost 1700 determined. In other words, aside from "momentum" factors, what has happened so far isn't worth all that much. So all those percentage lines may well make sudden step-change moves on that day rather than the sort of gradual stuff we have seen so far with Clinton basically holding steady, Obama slowly gaining, and Edwards gradually dropping. There will be nothing gradual about Super Tuesday. We will come out of it, and things will have just changed.
And the next 10 days… they will be intense.
In the mean time… Republicans on Tuesday in Florida.
And a meaningless Democratic Primary in Florida too… except it may show if Obama gets any kind of bounce out of South Carolina. And of course, Hillary wants to change the decision about seating the Florida delegates. If she has her way, it may matter after all.