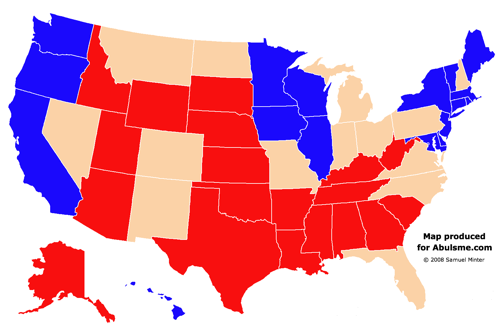 The state by state polls continue to come in and as they do so they continue to confirm a big move in McCain's direction over the last few weeks. Today there are three states full of bad news for Obama. Once again in order of electoral college strength:
Pennsylvania (21 ev): Obama's lead falls to less than 5% moving the state from "Weak Obama" to "Lean Obama". With a lead this small, Pennsylvania should now be considered too close to call. It is now a swing state, and is within possible reach for McCain. Given the 21 electoral votes in Pennsylvania, this is a big deal. The only swing state with more electoral votes is Florida.
New Mexico (5 ev): As in Pennsylvania, Obama's lead falls to less than 5%, moving New Mexico into the swing state category. At only 5 electoral votes, this is less important than Pennsylvania, but given that Obama was hoping to make some inroads in the West, it shows problems in Obama's hopes to make "map changing" happen this cycle.
Alaska (3 ev): The Palin effect continues. One week ago Alaska moved from "Lean McCain" to "Weak McCain". Today the five poll average pushes McCain's lead in Alaska over 10% and moves the state to "Strong McCain". Before Palin, Obama had hoped to perhaps actually make Alaska competitive. When Palin was added, any hope of that essentially dissipated overnight. It has just taken a couple of weeks for new polls to push old pre-Palin polls out of the average and show this new dynamic.
New Summary:
McCain Best Case – McCain 324, Obama 214
Obama Best Case – Obama 381, McCain 157
If everybody gets their leans (and Obama gets DC) – Obama 273, McCain 265
The trend over the last week has been very strongly toward McCain. Obama is now in the weakest position he has been in since late May. And things seems to have returned to the mode of late July and early August, where McCain is defining the agenda and the debate, and the Obama campaign is simply reacting and defending instead of pushing their own vision and direction.
Is this just a convention bounce for McCain which was large enough to completely overwhelm Obama's earlier bounce? Convention bounces usually last about two weeks in the national polls. It may take three weeks to see the effect in state polls. So it will take a few weeks yet to see if the gains of the last week are temporary due to the convention, or if they represent the true new state of the race. Of course, given how little time is left until the election, two or three weeks is forever.
For the moment though, while the overall situation still slightly favors Obama, all the momentum is in McCain's direction. McCain just needs to flip one more of Obama's leaning states (currently Pennsylvania, Michigan, Colorado, New Mexico and New Hampshire) to take the lead in the "if everybody gets all states they are even slightly ahead in" count. At the moment, New Hampshire is the most vulnerable of that group, with Obama only having a 1.4% lead in the five poll average. An interesting note there. If New Hampshire flips and everything else stays the same, then McCain wouldn't actually take the lead in that count. We'd have a 269-269 electoral tie. (If any of the others flipped, McCain would have a clear lead.)