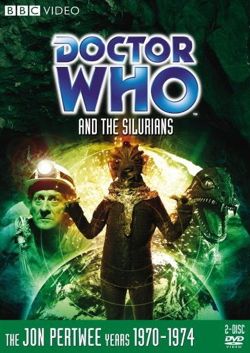 It was time for another Doctor Who DVD. We started a few weeks ago, but split the four episodes on this DVD up over a couple of weeks. This was the Third Doctor story Doctor Who and the Silurians which is interesting because it is the only Doctor Who story that had "Doctor Who and the…" in the title shown on screen. It was an accident. Somebody screwed up when producing the titles. Oops.
Anyway, it was in color! Woo! That is a welcome change after the older ones we'd watched lately. This one was first broadcast in 1970. Still before I was born, but getting closer. :-)
This one is about dinosaurs and humanoid reptiles in a cave below a nuclear power research station. What else can you say about that?
Well, actually there is a bit more to it. But this DVD is actually only the first half of the story. There is a second half, which we will eventually get to. And knowing a few spoilers, I gather we'll find out more about the origins of these humanoid reptiles in the second half.
So far it is OK. Like all of these older episodes, the pacing is much slower than modern shows. It still has a bit of charm though. I do like the Fourth Doctor and beyond the best though. I've never really been able to get all that into one through three.
For now though, this was OK. And we'll get the the second half sooner or later.