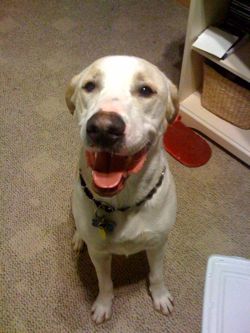 So, as seems to happen a few times a year, Brandy and I were driving down the street and saw a loose dog running around and playing in traffic. This time in the snow with the cars all around barely able to control themselves properly, not being all that used to snow in this part of the country. We pulled over. After maybe 10 or 15 minutes, and with the help of another passer by who happened to have meat in her bag, we caught the dog. The tag said he was "Hoshi" and had a phone number, but the phone number only yielded voice mail. The woman with the meat pointed out a house she thought the dog MIGHT be from, but there was nobody home. So after leaving a voicemail, we took Hoshi home for a bit to be warm and safe. Even thought we kept them on separate floors, Roscoe was NOT happy with this development.
Hoshi was a pretty good dog. Very friendly. Spent some time with Brandy and Amy while I tried (and mostly failed) to keep Roscoe from freaking out too much that there was another dog in his house.
After about an hour, we got a call from Hoshi's owner. They were mortified that Hoshi had gotten out. They were at the mall doing Christmas shopping. Hoshi had apparently let himself out.
Because of the bad weather, it took them more than another hour to get back, but as of a few minutes ago, Hoshi went home with his parents and is safe and happy.