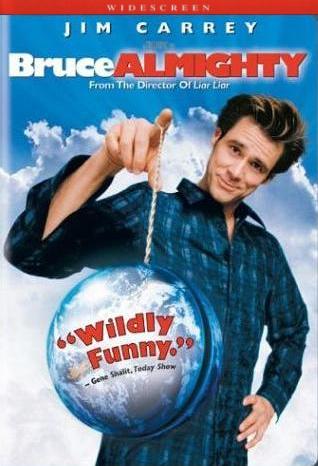 So last week was time for another Amy movie. This time it was Bruce Almighty. And this time Amy actually watched it with me! Brandy skipped though.
I'm generally not a big fan of Jim Carrey or his sort of physical comedy. And this was not an exception to that. It had a few moments, but for the most part I got tired very quickly of Carrey's exaggerated motions and funny faces and the like. And while the premise sounded interesting, I think it worked less well as executed and got a bit preachy at the end.
After it was over we watched some of the deleted scenes. Some of them I think would have made it slightly better, but even more of them were of the "I am so glad they left that out" variety.
Amy laughed a lot and enjoyed it though.
Anyway, overall this was a "bleh" for me. I enjoyed spending the time with Amy watching it, and I did laugh a few times, but it certainly wasn't very memorable. Unless you're a Jim Carrey fan, I'd probably skip it.