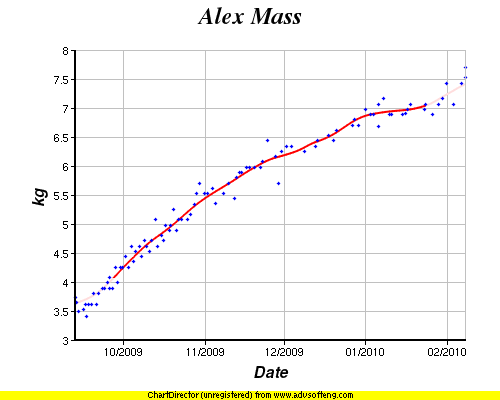 It was close yesterday, but as of today based on the overall trend line for Alex's mass…
Alex has doubled in mass!
Anyway, it looks like he is doubling every 148 days.
Assuming an exponential growth pattern…
His mass will exceed my own when he is 1.8 years old.
His mass will exceed that of the Earth when he is 32.6 years old.
Such a big boy!
(Note that this is of course dependent on the exact methodology I use for drawing the trend line, but I like how I draw the line, so I'll stick to it! It is better than just looking at today's reading vs the first one right after he was born… human mass fluctuates and there is non-trivial experimental imprecision, so it is important to look at trends over a bunch of data points, not individual readings. And I'll be sticking to the idea that his growth will be exponential, even though you can clearly see that the shape of the curve is not exponential. I'm sure that is just an anomaly, and it will become exponential any time now. :-) )