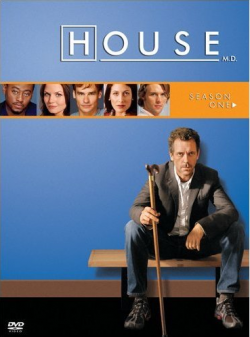 Still catching up on things we watched for family movie night. It was time for a DVD we own but hadn't watched yet. It would have been the next Buffy DVD, but Amy had taken that and watched it without the rest of us, so it was invalidated. So I picked at random from the shelf of such things, and so it was House: Season One, which I'd gotten for Christmas this year. Specifically, Disk One of Season One, which has the first four episodes.
The most interesting thing here was the first episode, which was the pilot. It was interesting of course because many elements were just not quite fully formed yet. The visual style was a bit different. And of course the characters were still in a sort of proto-form compared to even the later episodes on this disk, and definitely compared to later seasons. So that was fun.
I actually don't think I'd seen any of these episodes before. I've watched House a decent bit, but I think I picked it up a couple seasons in.
Aside from the pilot which was just slightly different, the rest was just typical House though. It is fun to watch and I enjoy House, but the episodes do almost always follow a pretty strict structure. House is of course an ass to everybody throughout, although there are occasional lurches forward in his character. There is some melodrama amongst the supporting cast. And then there is the medical mystery that they get wrong several times before coming to the right conclusion in the last act.
This disk has the episodes "Pilot", "Paternity", "Occam's Razor" and "Maternity". As I said, I think the Pilot is most interesting just because it was the pilot. After that Maternity was the most compelling, just because of the babies.
Anyway. Good disk.
Next!