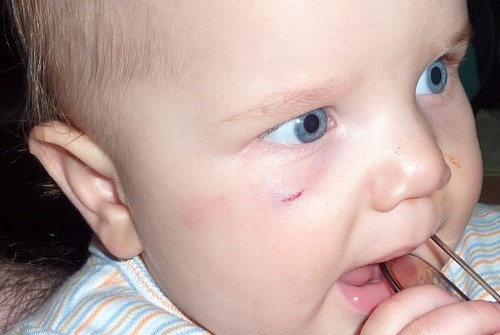 2010 Apr 16 5:22 UTC
So… transcript starting with the text from Brandy saying that Alex was crawling for the first time…
2010 Apr 16 3:20 UTC

Brandy: He's crawling.

Brandy: Like, on the knees crawling.

Brandy: Where is the camera?

Sam: Did you get video???? Cam is at top of stairs I think.

Sam: Woo!!!!

2010 Apr 16 3:33 UTC

Brandy: He is upset with me.

Sam: Because you got the camera?

2010 Apr 16 3:50 UTC

Brandy: I bumped his head pulling him out from under the table.

Sam: Oh

Brandy: Then I put him down on his feet. He started to fall and I scratched him when I caught him.

Sam: Oh

Brandy: So I picked him up to hug him. He twisted around and I poked him in the face.

Brandy: So I have him ning, and now he is bouncing happily in his jumper.

Sam: Oh

Sam: OK. :-)
And then, a little over an hour later when Amy and I got home, we were greeted with Brandy, Amy and Roscoe sitting at the top of the stairs and Alex sporting the black eye visible in the picture above. The story:
Just a few minutes ago we were finishing up his bath, and he stood up and fell on his fist.
Uh huh. Likely story.
Um, well, actually given the previous couple hours, completely typical. :-)
Oh, and of course he is absolutely fine. Just being a rumble tumble little boy.