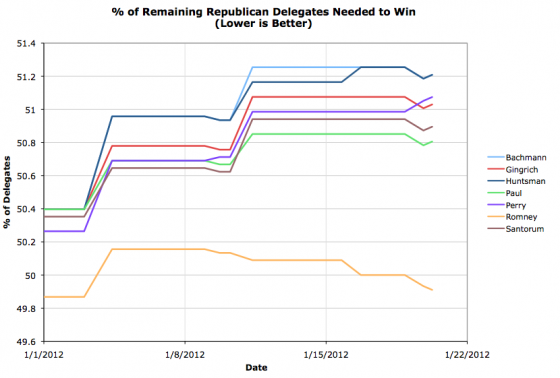 DCW tracks one of the former Perry Delegates endorsing Romney, further enhancing Romney's delegate count on his march to the nomination.
Having said that, recent polls clearly show the possibility of Gingrich taking the day in South Carolina this weekend. What will this mean with delegates?
Well, South Carolina has 25 delegates. 11 go to the overall winner of the popular vote in the state. Then 2 delegates are awarded to the winner of the popular vote in each of the 7 congressional districts.
So, the Gingrich best case is that he takes the overall win in the state, and his support is evenly distributed geographically, meaning he wins all 7 congressional districts. In this best case, he gets all 25 delegates from the state. If this actually happened, it would put our delegate count at 29 for Gingrich and 29 for Romney… a tie for the lead.
On the other hand, by the same logic, in Romney's best case, if Gingrich falls short, and Romney gets the majority overall and wins the 7 congressional districts and thus gets all 25 delegates, he will have 54 delegates, with the next closest candidate being Ron Paul with only 9. That is a considerable lead.
With the latest polls having Romney and Gingrich neck and neck, either one of these is possible, although it is probably more likely that at least some of the 7 congressional districts will go for someone other than the statewide winner, leading to the "winner" (whoever it is) taking more than 11 delegates, but less than 25…. which will result in Romney still being ahead.