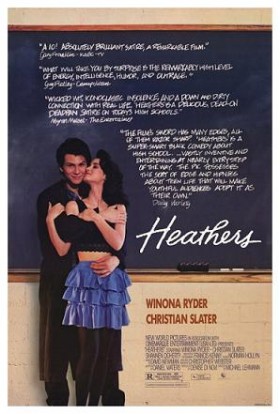 Released: 1988 Oct 1
Watched: 2011 Jan 31
Queue: Amy
Format: DVD
So. Movie night. It is a thing we used to do before we moved. Maybe someday we will do it again. But of course I still haven't posted about the ones we did in 2011. Oops. Anyway, Amy's movie was Heathers.
This is apparently a classic. I'd never seen it before.
I hated it.
I couldn't understand why any of the characters did any of the things they did. I had no sympathy for most of them. Most were repulsive in one way or another. It basically made no sense to me at all. I just couldn't relate to or understand even a single character in the whole thing.
Amy and Brandy of course liked it.
And that was that.