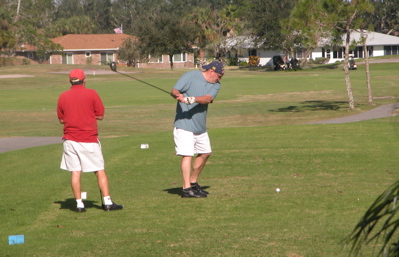 This is the view from our back yard.
It is the 17th tee I believe.
There are people coming and going teeing off every few minutes all day long.
The distance from the edge of our property to the teeing off area is probably about 20 feet I would guess. Haven't measured, but it is close regardless.
I thought Chad would appreciate it.
It won't stay there long though. Word is that the golf course has been sold to developers and a new housing development will be there instead within the next 2 to 3 years. Maybe sooner. That sucks a little, but on the other hand we probably got the house for a bit less because of it. So we're OK with that.
Moving is moving right along. Right now we are going back and forth to the old house several times a day, loading up both cars with boxes every time we do. On Monday we have a UHaul to do the furniture. (We looked at having pros move the furniture, but it would cost about 5 times as much as the UHaul so decided to do it ourselves again.) The idea will be to move everything too big to fit in a car on Monday. The rest we'll keep getting a car load at a time until everything is there though.
We've been staying at the new place though. No beds yet, so it isn't the most comfortable in the world, but it is all part of the "this is now home" thing. Brandy has painted the kitchen and is redoing the paper stuff in the cabinets and other things like that. We've been washing and cleaning all over. I've been trying to figure out some of the pool gadgets, but we won't REALLY get into that until after we've had it professionally cleaned at least once. (We got a check at closing for that since without the screen and with the pool left unmaintained for months, it is a mess… although they did remove the plants and tadpoles that were living there prior to closing.)
Oh, and we of course got the DirecTV and projector and DVD player and everything all set up. Had to have all that right away.
DSL is not available at the new location (too far from the CO for reasonable service) so we are going the Cable route again. Should have an install date by Wednesday. Hopefully it will be installed shortly after that. I'm hoping for this week, but it may well take a couple weeks. The data line for the house should be active Tuesday though, so we'll have at least dialup there.
Oh, and I started to set up the data line, and the first phone number it suggested for us when translated to words spelled 321-ORGY-DOLL. But there was a computer glitch and we had to start over. (The stupid online BellSouth thing didn't like Safari and kept giving me an error on the final form telling me that I had to be over 18 to register even though my year of birth was properly 1971.) The second time we got 321-SALT-MAP. Too bad, although I guess Salt Maps are OK too. I like salt and I like maps. So all is good. NOTE: This is going to be a data only line, for the Tivo and the like, so if you call it, don't expect anyone to answer.
Well, it is time to take another load to the new house, so I have to sign off for today.
We don't have those pictures we promised yet, but will by later this week. Promise.