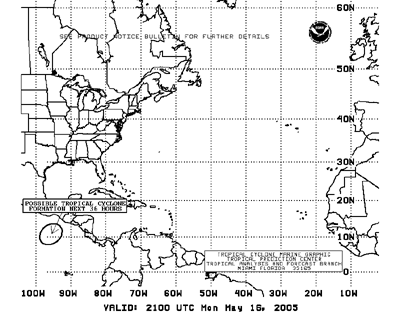 A couple weeks yet until the season officially starts, but I noticed that the National Hurricane Center has started to update their danger map again after several months with no updates. And some people are predicting a season just as interesting as last year…
NOAA predicts above-average hurricane season
(Maya Bell, Orlando Sentinel via Tallahassee Democrat)
ou can't take this to the bank, but here's a safe, albeit unsettling, bet: The 2005 hurricane season should spawn at least seven hurricanes, with at least three of them ballooning into major hurricanes.

That was the outlook released Monday by forecasters with the National Oceanic and Atmospheric Administration, who predicted that the coming six-month season that begins June 1 likely will be more active than normal.

If so, the 2005 season will mark the ninth above-average season in 11 years, adding credence to the notion that the Atlantic basin entered another and perhaps decades-long cycle of more – and more vicious – hurricanes in 1995.
Yeah, yeah, but what are the odds of four that can be felt in Brevard county again? (OK, that counts Ivan, when it wasn't even tropical as it was doing it's big loop, but still… we had some rain from Ivan, a pretty bad storm from Charlie, and pretty much direct hits from Jeanne and Francis…)
OK, odds are pretty good to not get hit two years in a row. But still, probably time to hit the Home Depot and get wood the right size for the new house.
I'll be checking the danger map (above) daily again. It is fun to watch! There is already danger for tropical formation on there, although it is in the pacific nowhere near here.
This years names will be: Arlene, Bret, Cindy, Dennis, Emily, Franklin, Gert, Harvey, Irene, Jose, Katrina, Lee, Maria, Nate, Ophelia, Philippe, Rita, Stan, Tammy, Vince and Wilma. We have a Brett and a Dennis at work (although Brett spells his name with two t's) and Brandy knows an Emily. I also once named a bug that I kept in a piece of wood Harvey. Rebecca later inhaled Harvey's remains.
I'm thinking because of the personal connections to me those four are the most likely to hit us this year. If I had to place bets though, I'd say Harvey will hit Florida, then make a bee line for Virginia to get Rebecca. Those wood boring insects really hold grudges when you accidentially suffocate them in a Ritz can and then let your friend inhale them.