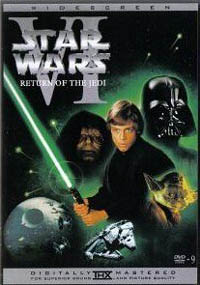 Well, I started watching Jedi right after I made the ESB post. But half way in I was really sleepy, so I went to sleep. Didn't finish it until last night. So I'm a day behind now. We're planning on seeing the new one Friday night. So that means I have to watch Episodes I and II, and maybe the Clone Wars cartoons before then. That is a lot to watch in 24 hours or so! Especially on a work day!
Anyway, Jedi is Jedi. I know many disagree and hate the Ewoks and all, and I'm not a big Ewok fan, but I always liked Jedi best of the original three. Basically jsut for one thing. The whole Luke/Vader/Emporer interaction once Luke is brought to the Death Star. I just like that whole sequence.
A few of the changes I wasn't thrilled about. Changing the hallway in which Luke and Vader first talk (in this episode) to one with windows overlooking the forest. OK, it makes sense given the setting, but I think it detracts attention from the personal dynamic occuring at that time. Better the stark hallway than the distracting forest.
Also, I hate the new music over the celebration. I like the jumping between the planets to show the celebration in places other than Endor (although I could do without the Jar Jar relative yelling "Meesa Free!!"). But I liked the original Ewok music much better. It just seemed much more honest and joyous and such, and seemed to reflect the situation the characters were in better. I dunno. Just didn't like it. Gimme that old fashoned Ewok music any day!
I also didn't like them putting in Ewan McGregor in as Anikin in the last scene with Obi-Wan and Yoda. Originally it was the guy who played the Anikin head you saw when Luke took off Vader's helmet. They didn't replace THAT with Ewan (thank goodness!). And you didn't see the young versions of Obi-Wan and Yoda, but them as they were when they died (approximately). Just didn't like that. Maybe it will be explained in III. But still don't like it.
Anyway… guess I'll be buying the tickets for us to see III in a few minutes. Then I'd better get to watching the rest of the movies I need to see before then.
Oh. Oops. Forgot I was at work. Damn.