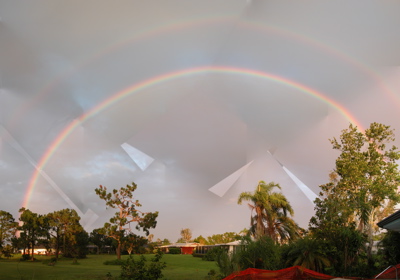 OK, I'm not so good with the photo stitching software and setting the camera right for doing the panorama in the first place, so there are a couple odd effects, but hey, you get the idea. It was way too big to fit in one shot, so I had to take a bunch and do my best sticking them together. In real lif it was perfectly round like they are supposed to be, and the sky didn't have odd angular variations in the light levels.
I don't think I've ever seen this close to a whole 180 degrees of rainbow at one time, let alone of a double rainbow like this one. This was the view behind our house and to the right a little.
It was really pretty.
I'm glad Brandy yelled for me to come see.