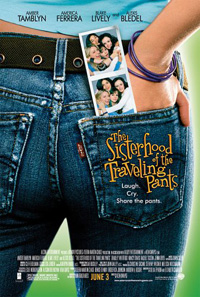 So Saturday afternoon we needed to go to Vero to retreive Brandy's car. (Remember, she was partying earlier in the weekend. :-) So since we had driven way out there, we decided we'd catch a movie while there. The kid appropriate choices were basically Madagascar and this one. Amy saw Madagascar first, and was chanting that, until she saw the Pants. Then she changed her tune, and it was decided. This was what we would see.
Basic plot: Four teenagers, friends for life, seperating for the summer. They decide to mail a pair of pants back and forth. Through the travels of the pants, we watch the emotional travels of the three girls as they each grow up in different ways.
I think we were basically seeing this because Rory Gilmore was in it. She is cute, but she was really skinny in this one. As they say, she needs to eat a sammich. I think the other girl with the blue hair was the best of the four girls though in terms of her performance.
Anyway, the immediate comparison here is to Raising Helen, since I'd just watched it a couple days earlier. RH is a bit more lightweight of a movie. It has the death of the sister and such, but mostly tries not to be TOO serious. Traveling pants has its light moments, but is definately more serious, and has more depth to it. You get four stories, each of which you care about. I think the blue haired girl's is the most poignant. But they all have their moments. Rory's is mostly happy though. She gets to find first love. The other three end up less happy, but grow from it, etc.
At various points in the movie, there were people crying all over the theater. And that is one of my main criterea for a good movie. You've gotta cry! And this one does that.
So, I liked this movie. Madagascar might have been fun too, but I'm glad Amy picked this one.