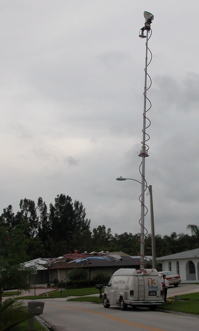 When Amy and I got home today, first thing we saw was that there were two big TV news vans parked right across from our house. One for Channel 13 (a local cable news station) and one for Fox 35 Orlando. The heart was thumping for a few moments wondering if something had happened to our house. But no, they had their tripods and such set up outside a house just about 75 feet down the street on the other side of the street.
A few minutes later while walking the dog I found out what had happened from one of our neighbors. And I checked the Tivo for the Channel 9 news we always have record automatically and indeed, the house across the street did indeed make the nightly news. (Channel 9 is affiliated with Channel 35). Had the reporters doing the stand up thing in front of that house and everything.
Anyway, here is what happened across the street from our house today:
Roofer Hospitalized After Lightning Strike In Brevard County
A roofer was hospitalize Wednesday because of a lightning strike in Brevard County. The man was in critical condition and was taken to Palm Bay Hospital with burns up and down his left side. He was later tranferred to Holmes Regional Medical Center.

When the rains started coming down Wednesday, authorities said the ten men working the roof of a home in Palm Bay originally sought shelter, but when they realized the rain might start leaking through the uncovered portions of the house, three roofers went back up to lay down tarps.

"The fourth person, the one that fell, went up to assist the three, and that's when the lightning struck him in the process," said Sgt. Jim Richmond, Palm Bay Police.
I gather it is yet to be determined if the man will pull through and make it. Good luck to him.