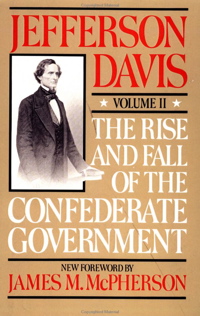 Author: Jefferson Davis
Started: 10 Jul 2006
Finished: 18 Nov 2006
662p / 102d
6 p/d
The Amazon listing linked from the cover picture doesn't say it explicitly and has the wrong cover shown, but if you look at the search inside the book you can tell it is indeed Volume 2. Anyway… I finished Volume I in November 2005. I had really enjoyed it, and this summer decided it was time to read Volume II. Volume I was about the time leading up to the Civil War, and a lot of time was spent on Davis's analysis of the legal and constitutional underpinnings of his view of state's rights and of the right to succession. And then continuing with a chronology of the actual succession of the various Southern states, the formation of the confederacy, the drafting of the confederate constitution, the events which led up to the start of hostilities, etc. I found all of this exceptionally fascinating. Looking at all of these things from a viewpoint that is rarely given these days.
Volume II was interesting, but no where near as much so. It was mostly about the war itself. Battles and troop movements and the ebb and flow of the war effort itself. To some, this would be the interesting part. To me, this was the least interesting aspect of the entire affair. There was a bit more of the philosophical stuff in this one, and toward the end some very interesting aspects about the beginnings of the reconstruction period and the workings of the initial Federal occupation and clamp down on the former Confederate states. But whereas MOST of the previous volume was related to these aspects that I found extremely compelling to read about, in this volume it was in the minority, and was overwhelmed by the nitty gritty of the war itself.
Even in these portions I learned quite a bit, not having done any extensive study of the civil war in the past. And it was interesting… just not as interesting to me. It was definitely worth reading for completeness. But if you had to pick just one of these two volumes, Volume I would be the one to pick.