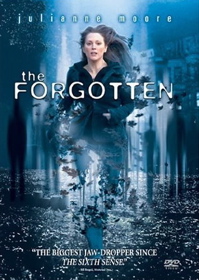 Over the weekend we watched Brandy's current Netflix movie, The Forgotten. The summary and such is all at that link, so I won't repeat it. We watched the extended version with alternate ending that the DVD provides. Then we went back and watched the original theatrical ending. Brandy and I both liked the alternate version better.
In any case, this (unlike Eragon) was a good movie and worth watching. I would recommend a rental. Basically a light action/suspense flick that has some emotional tension in it. Nothing earth shattering, but a good movie for a rainy weekend. It was fun. The people ran around. There was suspense. There was an X-Files type theme. It worked.
We particularly liked the people getting sucked into the sky. That was cool.