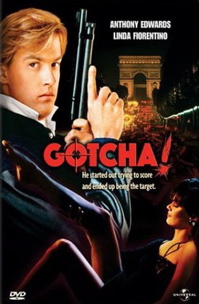 So early Tuesday (UTC) we watched Gotcha! which is apperantly one of Brandy's favorite films, although she hadn't seen it in about a decade. The main character in this was played by Anthony Edwards who by coinicence was the husband in the last movie we watched earlier in the weekend. He was much younger and had hair in this movie though.
It was a fun little movie. I don't think it has leapt to the "favorite movie" type status for me like it is on Brandy's list, but it was fun as long as you didn't think about it all that much. College kid has some spy adventures, and in the end the little games he plays on campus give him skills he needs to help foil the bad guys.
It is a cute little movie. Worth watching. We watched it on a laptop though. Probably should have watched it on the projector. BUt Amy was busy using that to watch something else. Anyway, fun little movie.