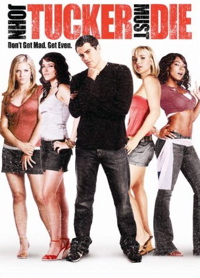 I was going to try to post something else before I posted another DVD, but in several days I haven't had anything to say yet. Closest I came was talking about how Roscoe really liked to roll around in the snow. But I didn't even have a picture even, so that was about all I had to say on that. And I just did.
Oh, the movie… this was (if you couldn't guess) an Amy chosen movie. We watched the "unrated" version on the DVD rather than the theatrical version. Which basically meant a few more swear words and a little more sexual innuendo. I gather anyway. Didn't actually watch the original to compare.
This is about four teenage girls who conspire to ruin the reputation of a guy who cheated on three of them (with the others of them) and then later when that fails to break his heart using the fourth girl as bait. Given that sentence, you can probably pretty much work out how the rest of the movie works out.
As with most of the movies that are Amy picks lately, this gets essentially the same summary from me… it was slightly amusing and I didn't want to run away screaming, but it was not memorable at all and definitely nothing I would ever pick on my own. But I fully acknowledge that if I were an 11 year old girl my opinions might well be quite different. I believe Amy watched it at least twice before she was ready to send it back.