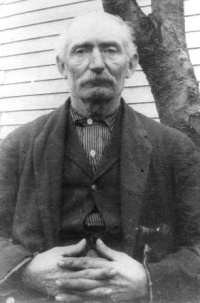 Time for #26 in my ahnentafel. And the timing is pretty good on this one. Well, I'm a day off.
Thomas B VanTilburgh was born in 1847, died in 1910 and had 13 children along the way with his wife Margaret Weer. He appears to have lived in Western Ohio all of his life. He worked at a bakery, a warehouse and a brickyard at various times in his life.
And along with his wife, he started a series of annual VanTilburgh Family Reunions starting in 1909. They have not missed a year since. The most recent was YESTERDAY. (Thus me being off by one day here.) I did not attend, but my mother did. It seems attendance has dropped a bit over the last few years. There were only 20 or so of Thomas B's descendants there. They are hoping to make a bigger event in 2009 for the 100th anniversary of the first reunion. I hope they manage to do so. I also hope to go in 2009. It should be interesting.
I went to one of these before when I was about 9 or 10 years old I think. But I think I'd get more out of it today than I did then. :-)