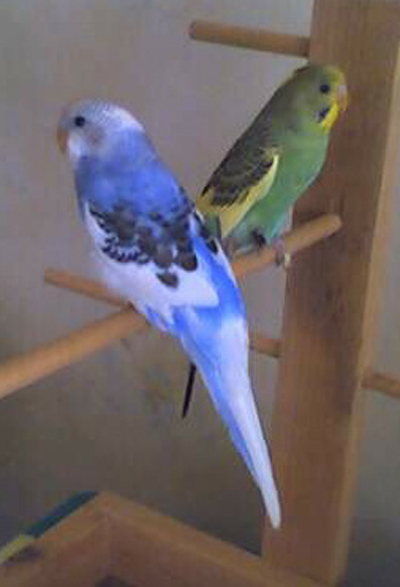 We thought Skittles was doing much better. After Cheese died he hadn't seemed to be doing well at first. But in the last few weeks he had perked up. He was looking very healthy. He seemed to be doing great. On this week's podcast you can hear him chirping in the background. And he would chirp along if music was being played. He was eating well. Last night he seemed fine. This morning we noticed nothing. He seemed like a happy little blue budgie again.
But this afternoon he suddenly started acting sick and started to deteriorate fast. Brandy noticed him puffed up and on the floor of his cage. At the first sign of trouble Brandy made a vet appointment for first thing in the morning. (The vet had already left for the day.) I came home about an hour early to help. But by the time I got home he was in very bad shape. There were bursts of activity, but he was not doing well.
About 25 minutes ago, with Brandy and I there, Skittles cheeped for the last time, turned to look at me for a minute or two, then closed his eyes. A few minutes later he took his last breath. He had seemed absolutely fine and healthy less than 12 hours earlier. Poor sweet little guy.
We'll take him to the vet to see if anything more can be determined as to cause for him or Cheese. The vet had warned that Skittles might have the same problem as Cheese, but we had thought we were just about over the hump and he was going to be OK. But that was not to be.
The vet also still has Cheese, who he was keeping in case more tests could have helped Skittles. When the vet is done with both of them we will bury the two of them together. They were best friends their whole lives. It is only fitting.
Goodbye Skittles. We'll miss you.