Yesterday when I posted the post-Michigan results, while the winner had been declared, all the counts actually were not in yet, so the delegate counts were actually still in flux. When I made my post the CNN page where I get this data had Romney getting 10 delegates and McCain 8. By the time things were fully settled (and by when I did tonight's update) the revised estimates based on the full results had Romney getting 22 delegates, McCain only getting 5 and Huckabee getting 1. This gives Romney a much bigger win than that early incomplete estimate gave. Today's revised graphs show this: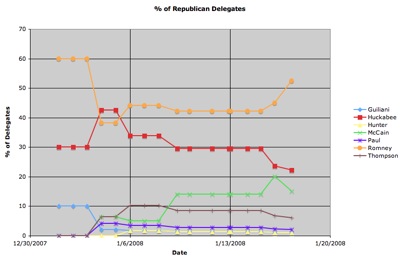 We can see that at this point Romney has really opened up a big lead in delegates. With his lower Michigan delegate count, McCain now barely moves ahead and no longer appears to be "about to catch Huckabee".
At this point both Romney on the Republican side, and Clinton on the Democratic side have more than 50% of the delegates awarded so far. Which are pretty strong leads.
Now, of course, only a small percentage of the total number of delegates has been allocated at this point. (4% of delegates on the Republican side, 9% of delegates on the Democratic side) These "big leads" can be erased by the results in only one big state, let alone the flood of delegates coming up on February 5th. So things are really still completely up in the air.
But it is very interesting to see how the media narrative is so very different than looking at the delegate counts.
On the Democratic side, Hillary has had a strong lead from the beginning. Obama has been catching up a bit, but Clinton is still WAY ahead.
On the Republican side, despite the wins by Huckabee and McCain, aside from two days, Romney has been significantly ahead the entire time.
Of course that brings up back to the small number of delegates awarded so far, and how fast this can all change.
Bring on Saturday for Nevada and the South Carolina Republicans. A bunch more delegates. And perhaps more changes.
I really want to see both frontrunners drop below 50% of the delegates. That's when things are interesting, when nobody has more than 50%. So we need big wins by people other than Clinton and Romney to make that happen. Nevada Dems… could happen… it is neck and neck. Nevada Repubs… eh… we'll see… Romney could take this. South Carolina Repubs… probably McCain or Huckabee, probably not Romney. All of that is based on limited recent poll data though… and with the low attendance expected in Nevada, it all kind of depends on who bothers to show up… so they really all could go in unpredictable directions.
Anyway… we'll see in a few days.
Oh yeah… I've also adjusted all the graphs so the data points reflect the time of day I take the "sample" from the CNN page rather than showing all the data points at 00:00 UTC.