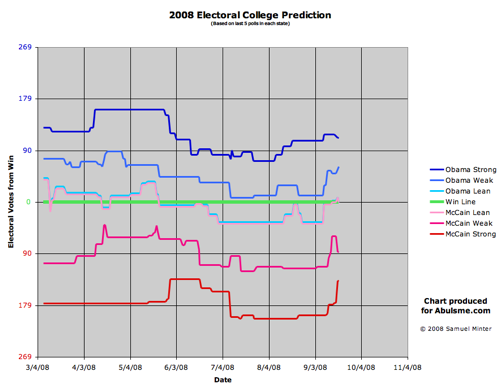 Lots of polls since the last update, but only two category changes today.
Colorado (9 ev): Yesterday the five poll average moved Colorado from "Lean Obama" to "Lean McCain". Today it moves back. As I mentioned yesterday, with these "Lean" states flipping back and forth, it may or may not really mean anything. Really, regardless of what side of the line we're at at a given moment, the reality is that it is too close to call. But it does once again mean that after only one day of being in the lead in the count where everybody gets their leans, we are now back at an even 269/269 electoral college tie.
New Mexico (5 ev): This is another state that is right on a line. This time right on the line between "Lean Obama" and "Weak Obama". It has been bouncing back and forth a few times lately. And now it bounces back to "Lean Obama". Which means that New Mexico is once again a swing state. But really, since the end of August, New Mexico has just been hovering right around the 5% Obama lead line, thus going in and out of this category.
New Summary:
McCain Best Case – McCain 331, Obama 207
Obama Best Case – Obama 355, McCain 183
If everybody gets their leans – 269/269 ELECTORAL COLLEGE TIE
So, is this a peak for McCain yet? It may be coming, but the state by state polls still don't show it yet. Yes, the "everybody gets their leans" count goes back in Obama's direction today. But that really is a tied state moving from just barely on one side of the line to just barely on the other. Meanwhile, New Mexico weakens for Obama and becomes a swing state again. (Although that could also be random fluctuation.) So there is still mixed news overall today.
So, definitely hints of a beginning of a reversal in momentum, but nothing definitive yet.