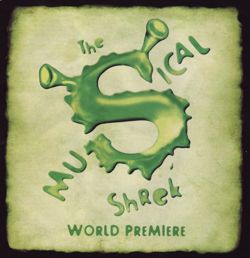 Last weekend, joining a group from Amy's school, went to see the musical version of Shrek. It has been here in Seattle working out the kinks and such before moving to Broadway. We saw it on the last day here.
I had low expectations. But it was cute and funny and stuff. What you would expect Shrek to be when translated to the stage.
Bottom line, it was fun. For those of you near New York who might consider going to that sort of thing, probably worth a trip into the city one night.
Lets see though, what were the highlights? Shrek himself was OK, but as with the movie, Donkey and Fiona were better. The Gingerbread man was funny. Pinocchio was annoying.
We also waited with Amy's school group at the stage door afterwards for Amy to get autographs and such. She got a few. But nobody even noticed the three pigs when they left.
Oh yeah… and Amy wore Shrek ears for about 24 hours after the play ended, including all day at school the next day.