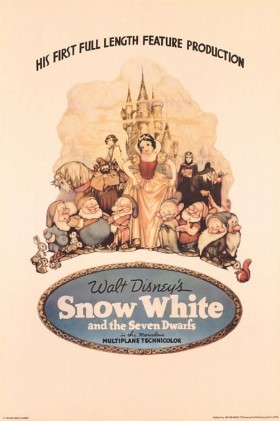 Original Release: 1937 Dec 21
Date Watched: 2010 Aug 30
Queue: Sam's
Format: DVD
So it was my turn, and more specifically, for every other one of my turns, it is time for another movie from the 100 Years 100 Movies list. I've been working my way from #100 down to #1. So here we are at #49, Snow White and the Seven Dwarfs.
This is a classic and all. First full length animated feature. One of the earliest major pictures in color. Etc, etc. If I had seen this movie before, it would have been when my age was in single digits. I certainly did not remember it, other than some of the iconic clips I'm sure I've seen over and over again.
Anyway… NOTHING HAPPENS. This is almost a 2001 like experience, but with songs. If you put together the parts of this movie were something was actually happening, it would be something like 10 minutes long. In between you just get LONG musical segments. Some of them really seem to go on forever. For me, especially the ones with Snow White herself singing. Something about her voice, well, I guess that would be Adriana Caselotti's voice, really grates on me. I like the "Heigh-Ho" song though. And I guess it is fun to watch them clean the house and all that. But this time it was me (rather than Amy) who got to the end of the movie and was saying "REALLY? THAT'S IT? REALLY?"
Amy also pointed out a number of differences between this and the Grimm version.
Earlier, when Snow White was about to eat the Apple, there was this exchange:
Amy: She is so stupid! Even the birds know not to eat the apple!

Sam: Well, there is a reason she is not called Snow Bright.
She really is incredibly stupid. Oh well.
And shouldn't it be "dwarves" anyway?