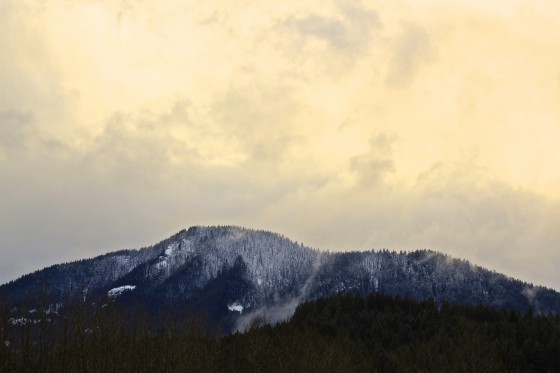 On Saturday, we took a little trip into the mountains. (Photo above by Amy.)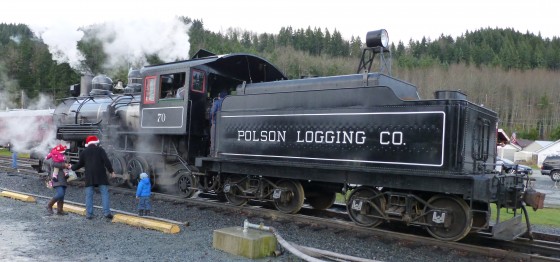 We went so we could take Alex to ride on the Santa Express, run by the Mt. Rainier Scenic Railroad.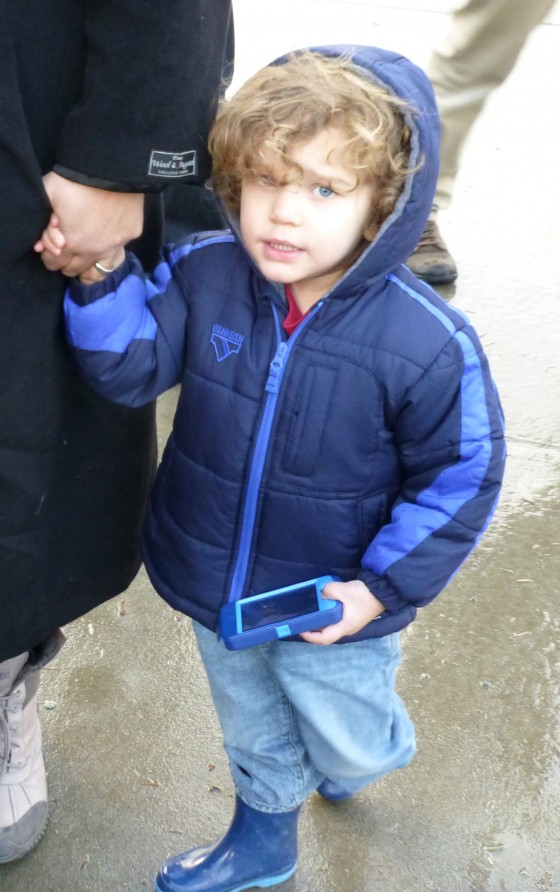 With his iPhone in one hand, and Mommy in the other, Alex was ready to go!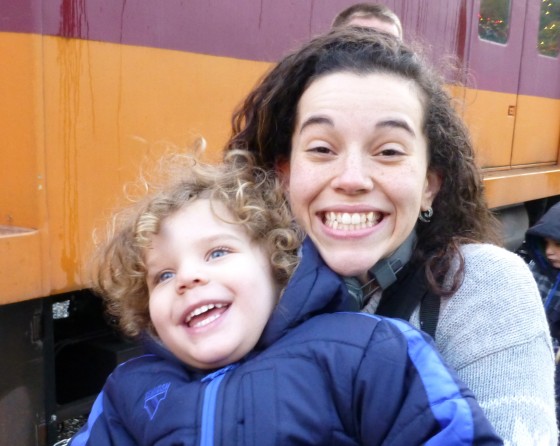 Amy was ready too!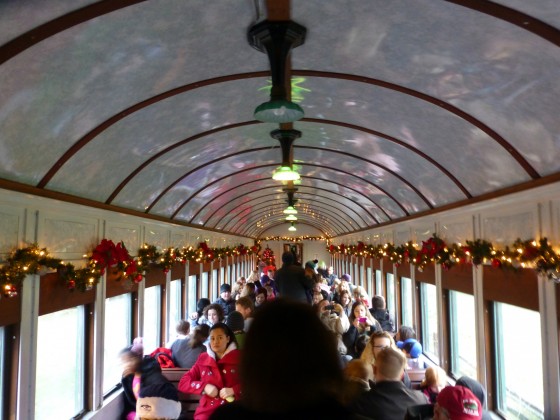 They had these cool antique cars.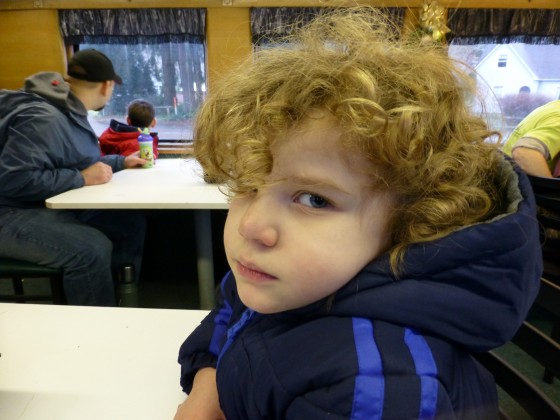 But Brandy wanted to sit in some less cool cars because the seats were more comfortable. Alex was not impressed.
OK, maybe that was me that was not impressed. I was bummed that the car we were in was less cool than the others, plus the windows were much dirtier making it basically impossible to take pictures out the window.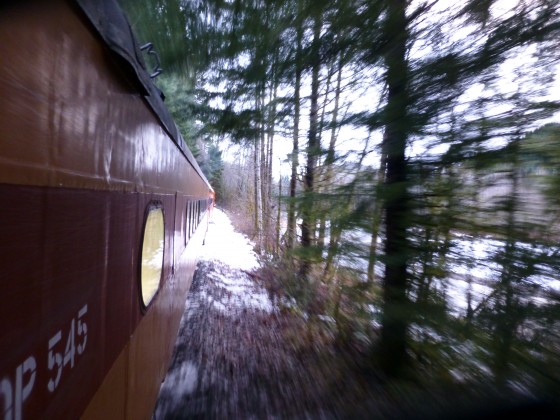 But that didn't last all that long, because Amy discovered a place between the cars with the top half of a door open, so you could actually just essentially be outside with no window in the way. That was MUCH better.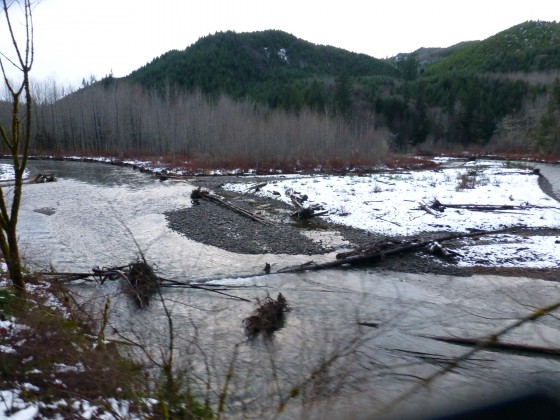 There were lots of views like this.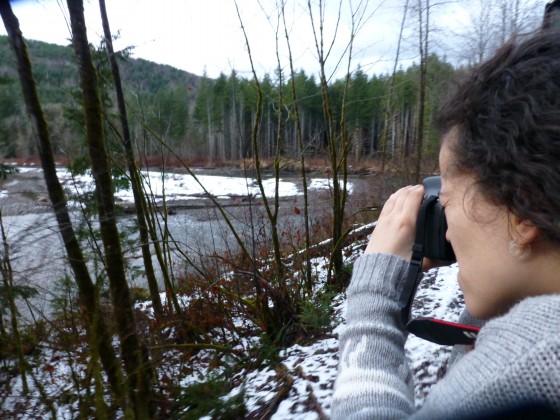 Of course Amy took lots of pictures.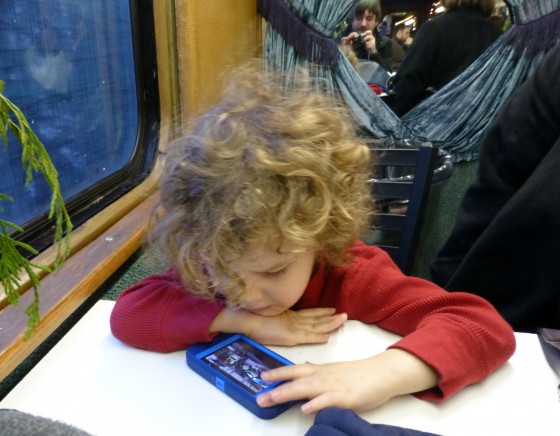 At this point, Alex had not yet been convinced to leave his seat. He just wanted to sit and watch Thomas the Tank Engine on his phone. But he was ON A TRAIN! So this would just not do.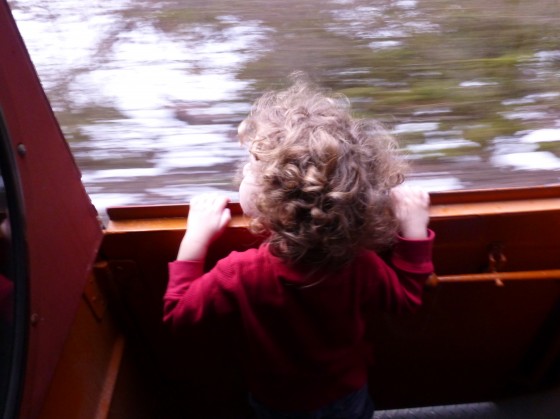 So I insisted, and took Alex to the place he could look out. He was just tall enough to look out standing tiptoe. He barely left that spot again for the rest of the train ride.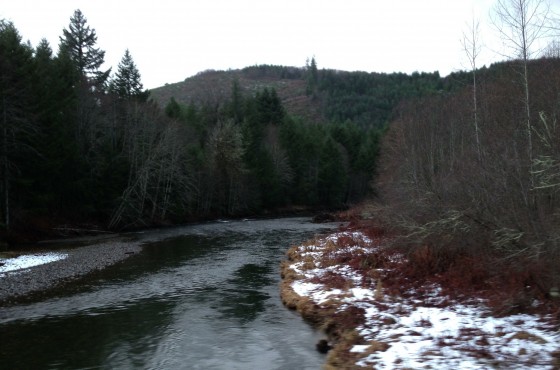 There were of course more pretty views.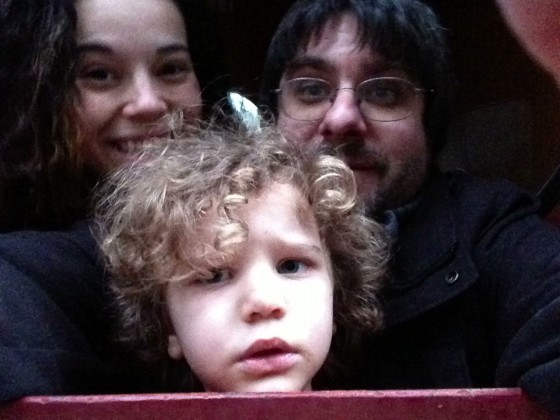 And some horsing around.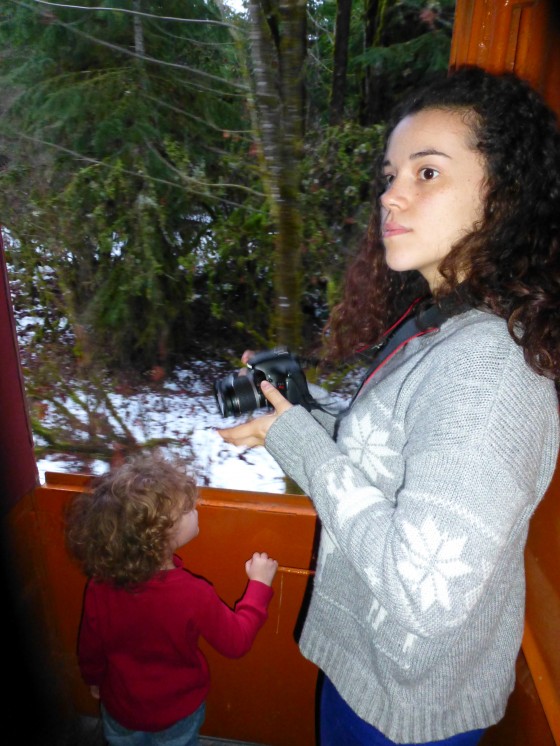 Much of the ride looked like this. With Alex and Amy together, checking out the views.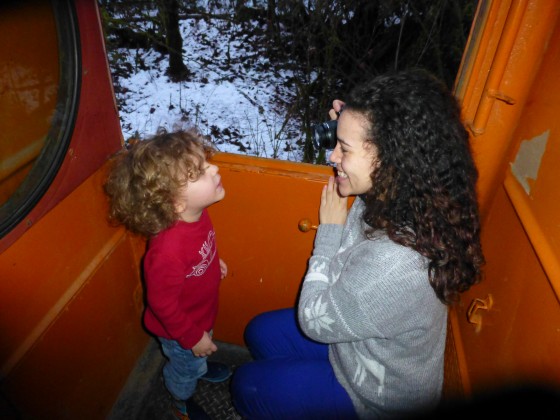 They really do have lots of fun together.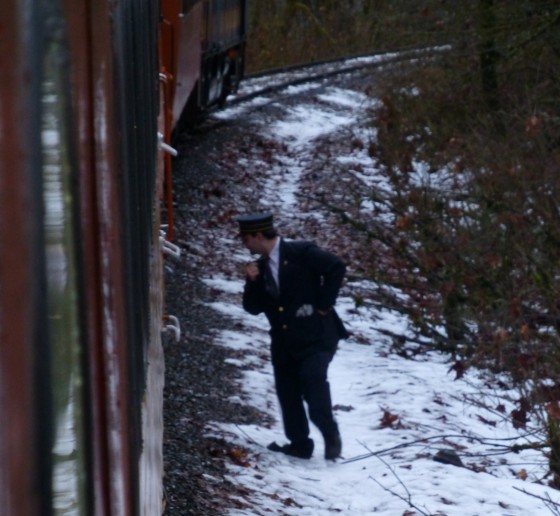 Then, as it was starting to get dark, the train made the first of several stops. The crew was investigating a problem. As we would soon find out, the generator that served the front half of the train was acting up…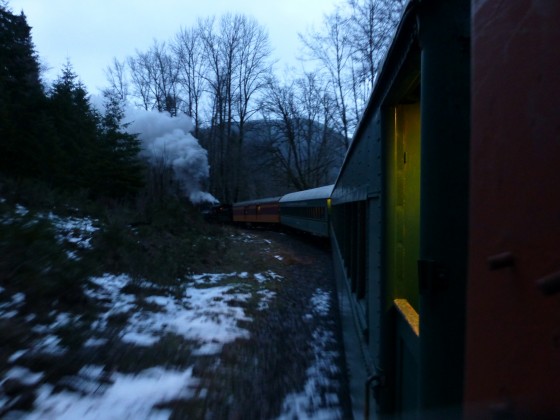 But there were still some good views. This is looking back toward the steam engine that was pushing the train.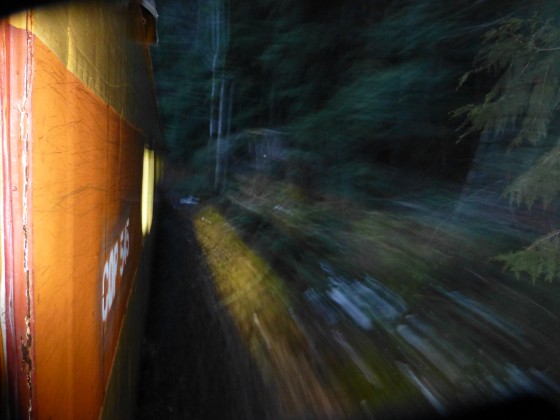 As it got darker, photography out the window becomes more impressionist.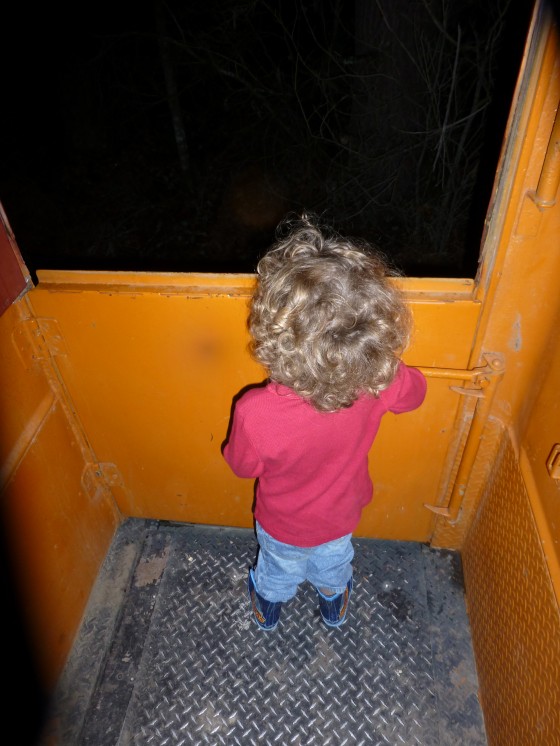 But Alex maintained his vigil.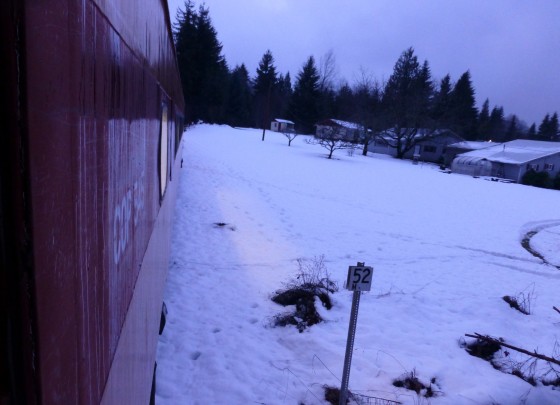 Then, suddenly, there was snow!
And then, and then… it was time for… SANTA!
Now, I was an idiot. Looking at the screen on my camera it seemed like it was just too dark, and the movie was going to come out without you being able to see anything. Now, obviously, it turns out you could see things just fine. But I panicked and cut the movie short and switched to stills with a flash. The video and stills from the video were much better than what I took after. And you could of course see how the whole thing played out. But I missed the second half because I stopped the video short. I missed the good part…
In the next few seconds, Alex actually did manage to have a short conversation with Santa, and got his courage up, and told Santa he liked trains. This was a big deal for him. He'd been talking about talking to Santa for weeks, and had chickened out several times. This time he managed it. Of course, I cut the video off too soon. (And frankly, I missed some of the actual event myself as I was fiddling with the camera instead of paying attention.)
Sigh! I can't tell you just how annoyed I am at myself…
Anyway, back to the stills…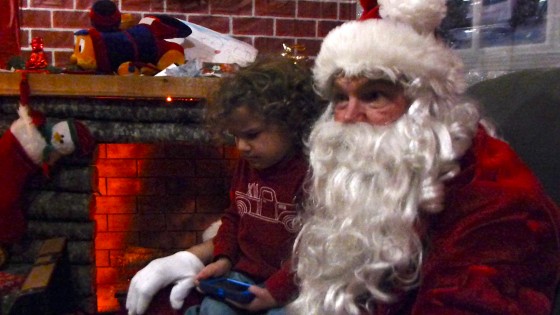 When he first sat down Alex was not too sure of this whole thing, and really just wanted to watch his show on his phone.
But then he turned up, he smiled, he almost laughed… you could see that part on the video.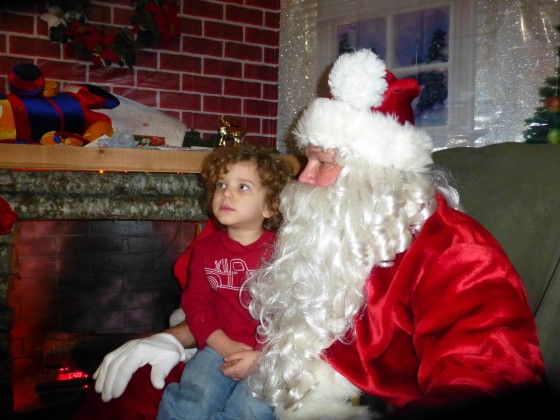 He was actually getting almost comfortable as Santa asked him about what he liked and what he wanted for Christmas.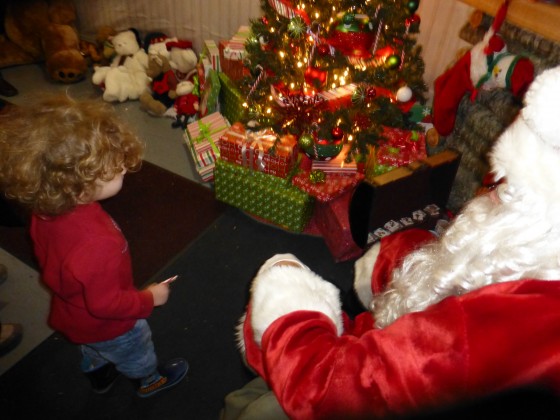 Alex accepted a candy cane from Santa, but told Santa he didn't want a sticker.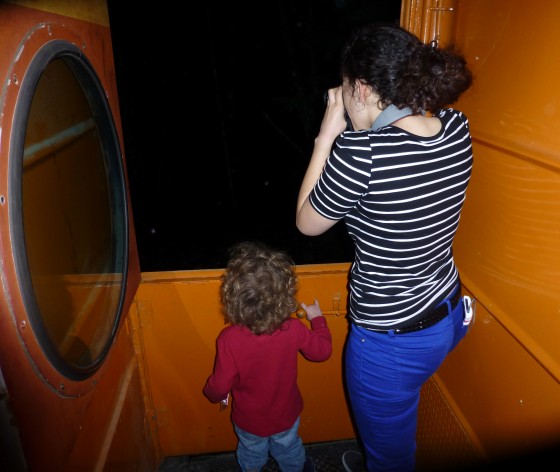 Then it was right back to Alex's favorite spot!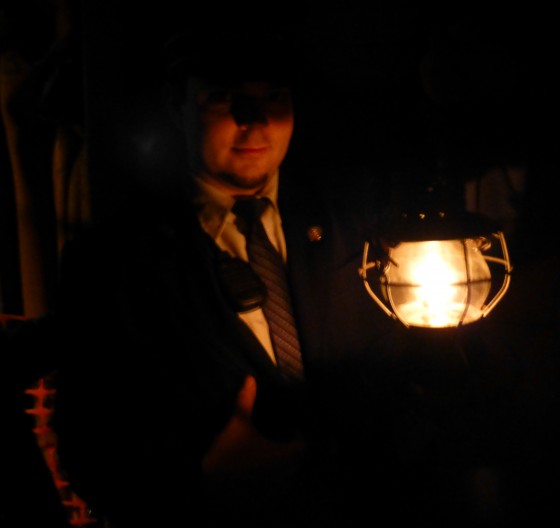 Of course, they never had fixed that generator. The last three cars on the train were in complete darkness, and with no heat. Oops. Of course, Alex and I were just hanging out between the cars without a window between us and the outside world anyway, so it didn't make much of a difference to us. But it probably did to some of the other folk…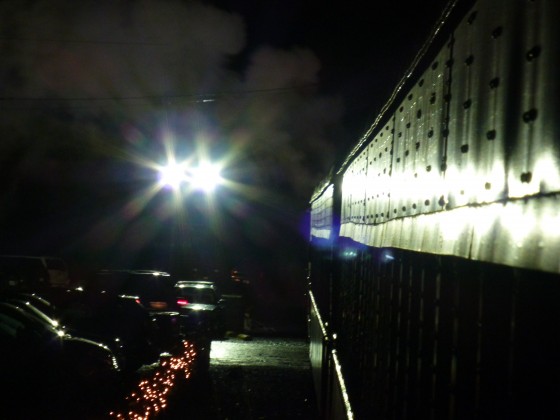 Then the train pulled back into the station…

And it was time to disembark…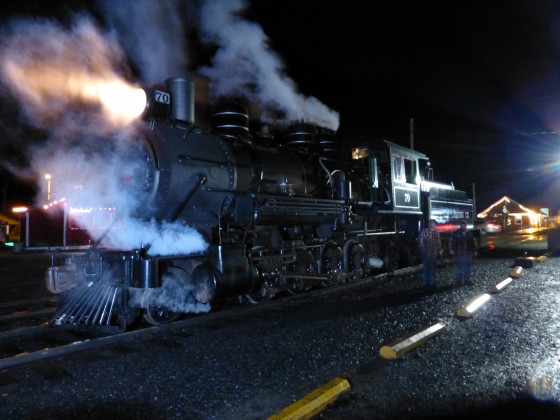 With a final look back at our steam engine, it was time to go home.
Another big day for Alex. He was asleep long before we made it home. It was a good day.
And he made sure Santa knew he wanted trains for Christmas. Which is very important. Cause otherwise how would Santa know?